The most fitting of gifts
Give the important man in your life the chance to create his perfect-fit shirt with the Apposta gift card.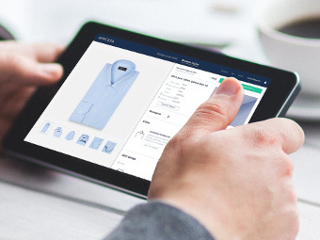 A unique experience
The Apposta experience is not just about him receiving a new Italian-made shirt, it's about him customising the shirt and choosing details that will make the shirt unique to his style and taste. He gets to select the cloth, the type of collar, the cuffs and even the option of a monogram – all of which are free because we only charge for the fabric.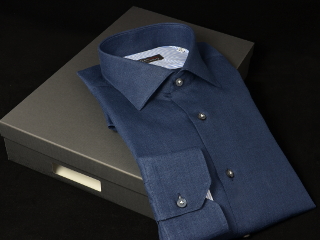 Give quality
Feel safe in the knowledge that the shirt he creates will be of an extremely high quality, made entirely in Italy. Every Apposta shirt is expertly tailored using the best fabrics; he can choose from up to 3,000 styles, and he can even contact us for advice on materials and details.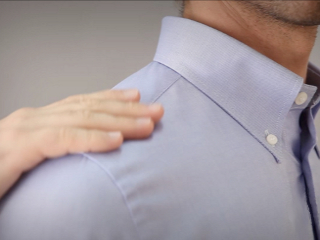 A perfect fit, ensured
Every Apposta shirt is made individually to order, so it fits his body perfectly, even without having to try on first – a failsafe method that will save him having to exchange it if it doesn't fit.
Purchase the Apposta gift card online and it will arrive in your inbox immediately – all he has to do is enter the code on the gift card to redeem it. Apposta prices are based solely on the fabric preferred; all customisations, tailoring and embroidered monogram are included.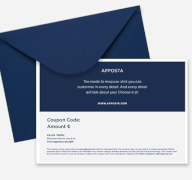 Choose the digital Gift Card
The fastest way to make a present! Once you buy the gift card you will receive an email with a coupon code and a Pdf file. You can print and present it, or send it by email. The coupon code is immediately active.
The code entitles to a purchase amount equal to the purchase price of the gift card. It can be used once only on apposta.com. It cannot be converted to cash or combined with other offers. For further information, write to Customer Service.