How To Take Care Of Shirts
Ensure that your shirt stays in its best condition for as long as possible by reading our shirt care guide
How to Create Your Custom-Made Shirt
Creating a Shirt
Made to Measure
More
Elements of Your Custom Shirt
Collars
Fabrics
Special Fabrics
Weaves
Shirt Fits
The Fabric Suppliers
How to Create Your Custom-Made Shirt
Creating a Shirt
Made to Measure
More
Elements of Your Custom Shirt
Collars
Fabrics
Special Fabrics
Weaves
Shirt Fits
The Fabric Suppliers

Taking time to clean, maintain and correctly store shirts will keep them looking their best for longer. Here are some essential tips to ensure that your shirts remain in their best condition.
Prepare Your Shirts Before Washing
Turning your shirt inside out before washing prevents fading, abrasion and button damage. It's also a good idea to pre-treat a shirt's cuffs and collar before washing as these areas are prone to staining. You can do this by applying some detergent straight on to these areas.
Wash Your Shirts By Hand Or On A Cool Cycle
The best way to wash shirts is by hand which is gentler than a machine wash. The next best option is to wash your shirt on a cool cycle such as 30 degrees celsius. A low temperature will reduce the chance of shrinkage. As with all clothing, wash similar colours together to prevent dye transfer.
Air Dry Your Shirts
Though tumble driers are convenient they can be harmful to a shirt's fabric, so always try to air dry your shirts. The best way to do this is by putting your shirts on a hanger and hanging them somewhere warm and dry. Placing a dehumidifier nearby will speed up the drying process. Not only is this method is gentle, it will encourage creases to fall out of your shirt.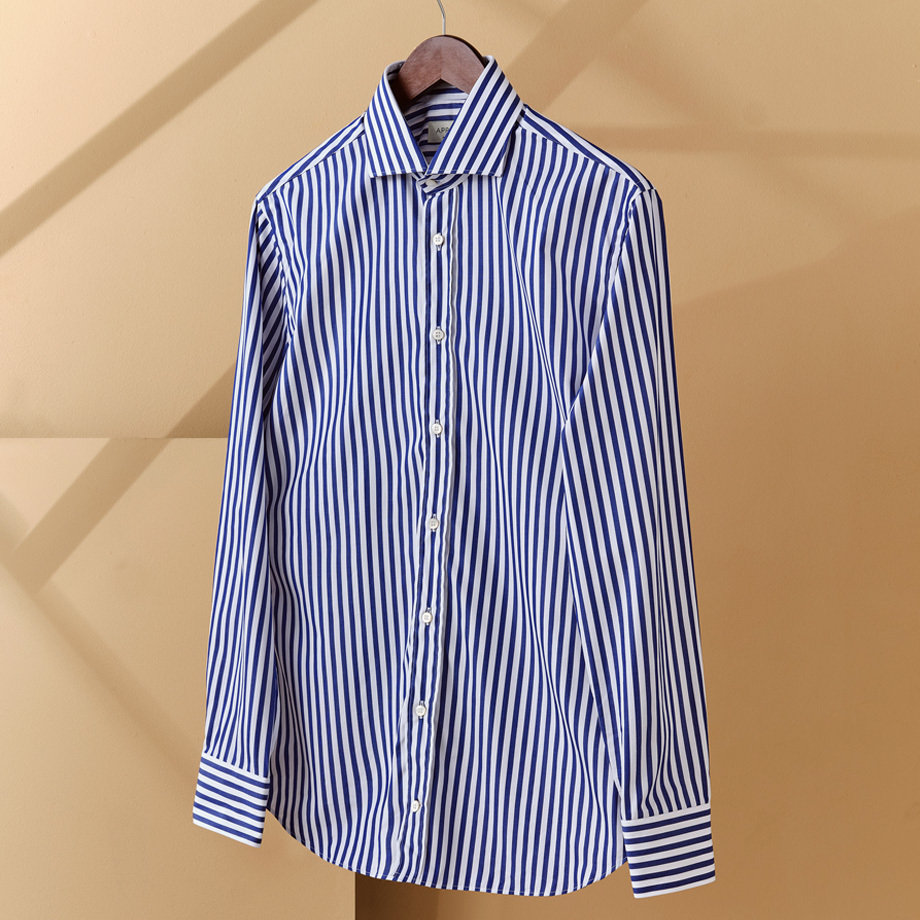 Iron In Order
When ironing shirts, deal with the collar and cuffs first before moving onto the sleeves and the body. Leaving the torso of the shirt until last means it won't have an opportunity to get creased again. It is preferable to have your shirt turned inside out and slightly damp while ironing.
Hang And Fold With Care
Storing your shirts hung will keep them crease free and looking their best. It's important to make sure the hanger is no wider than the shoulders of your shirts.
If hanging space is unavailable, here's how to fold shirts. Begin by buttoning up your shirt then lay it button side down. Fold the sleeves across the back. Fold the sleeves up so that each cuff touches the collar. Fold the shirt's sides inwards so they meet in the middle. Fold the shirt into thirds starting from the hem upwards, then flip your shirt around so that it is button side up.
Alternate Your Shirts
Overwearing a shirt will hasten its deterioration. You should aim to rotate your shirts so that they're all getting an equal amount of wear. If you have a favourite style of shirt consider buying a few of the same design so you can alternate between them.