Straight Point Collars for Custom Shirts
Here are 9 different types of straight point collar which you can use when making a custom shirt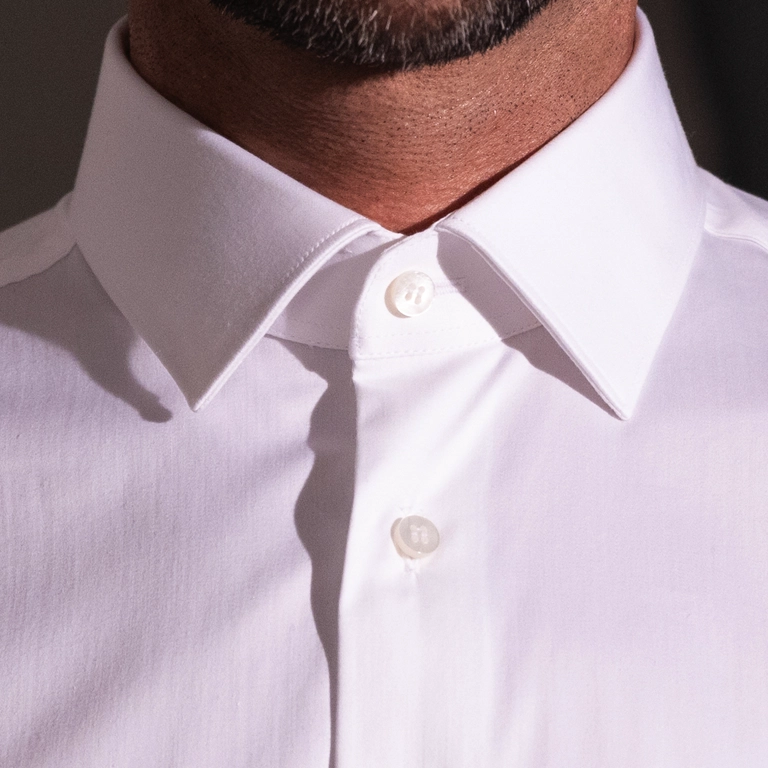 Straight point collars are versatile, being appropriate for both informal and formal settings. They are the standard Apposta 'Italiano' type and feature a small gap between the two collar points.
This collar type can be worn with or without a tie. You should choose a version with shorter points if you intend to wear your shirt without a tie.
This is a good choice of collar for those with a round face, as it will provide elongation.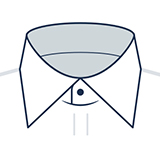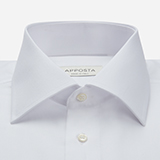 Regular straight point collar
The Italian style collar par excellence, suitable for all occasions, with or without a tie.
Points length 8.7cm, back height 3.6cm, front height 2.8cm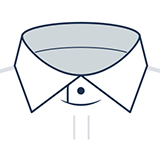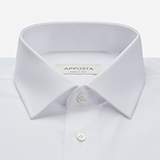 Updated straight point collar
The small opening between collar points means this style works best with a small knot. Keep it sleek with a slim tie, or forego the tie completely for a more casual look.
Points length 6.2cm, back height 3.4cm, front height 2.8cm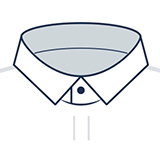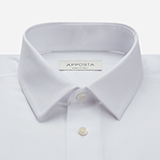 Low straight point collar with short points
Typical Italian collar style, with very short tips. Suitable for those who follow fashion trends. To be worn open-necked or with narrow ties.
Points length 5.5cm, back height 3cm, front height 2.6cm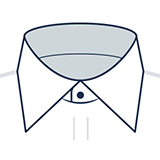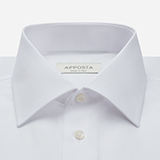 Low straight point collar
An Italian style collar suitable for daily tie wearers.
Points length 7.5cm, back height 3.2cm, front height 2.4cm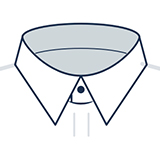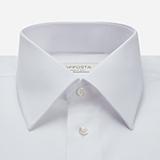 Open straight point collar
An open Italian collar to be worn with a tie or open-necked. A soft silhouette, the use of collar stays is recommended to fully enhance the characteristics of the collar. Well suited for linen or casual shirts.
Points length 8.2cm, back height 3.6cm, front height 2.8cm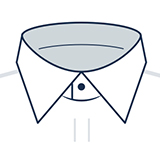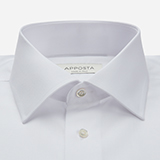 Trendy high straight point collar
High collar, up-to-date with the latest trends. Suitable for all the occasions, to be worn without a tie.
Points length 8.5cm, back height 3.6cm, front height 2.8cm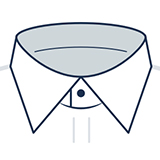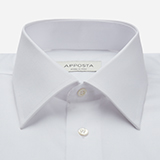 Classic straight point collar
A classic collar, suitable for those who love to wear a tie.
Points length 8.2 cm, back height 3.3cm, front height 2.8cm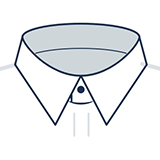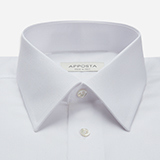 Narrow straight point collar
Typical Italian collar. Very classic when matched with a tie and worn under a pullover.
Points length 7.6cm, back height 3.4cm, front height 2.8cm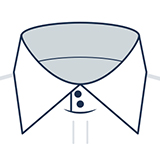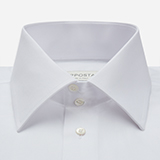 High straight point collar with 2 buttons
High Italian collar with two buttons. To be worn open under a jacket or a pullover.
Points length 8.9cm, back height 4.4cm, front height 3.9cm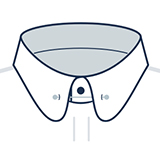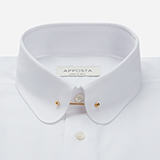 Pin collar
A collar bar keeps your tie in place and is an extra accessory to your look. This style works best with a small, a classic tie knot.
Points length 6.4cm, back height 3.4cm, front height 2.8cm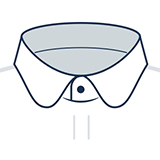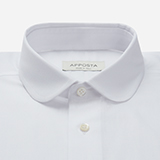 Club collar
A twenties-inspired style, the club collar calls for a slim four-in-hand knot, which should be pulled tight for a neat finish.
Points length 4.8cm, back height 2.7cm, front height 2.3cm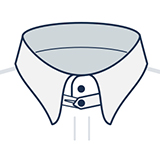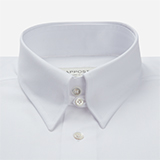 Tab collar
The tab collar is a smart and sophisticated design and is an alternative to the classic cutaway collar. A functional style, it keeps the tie firmly in place and also pushes the bottom of the knot away from the body, creating an elegant roll at the top of the tie blade.
Points length 7.7cm, back height 4cm, front height 3.4cm