The Men's Linen Shirts Guide
Learn why this shirt fabric is ideal for wearing during hot weather.

What Is Linen?
Linen is a textile which is made by weaving together fibres from the flax plant. It is durable yet lightweight and particularly well suited to wearing when the temperature is high. The fabric's weave will allow air to circulate to keep you cool when wearing while a high moisture absorbency means that the fabric is able to wick sweat away from your body to keep you dry.
Where Does Apposta's Linen Come From?
The extremely soft, high-quality and light linen that we use to make our shirts is sourced from the fabric suppliers Albini, Canclini and Soktas.
Browse our linen fabrics and create your perfect-fit linen shirt from scratch or choose a pre-existing linen shirt style with the option to customise at no extra cost.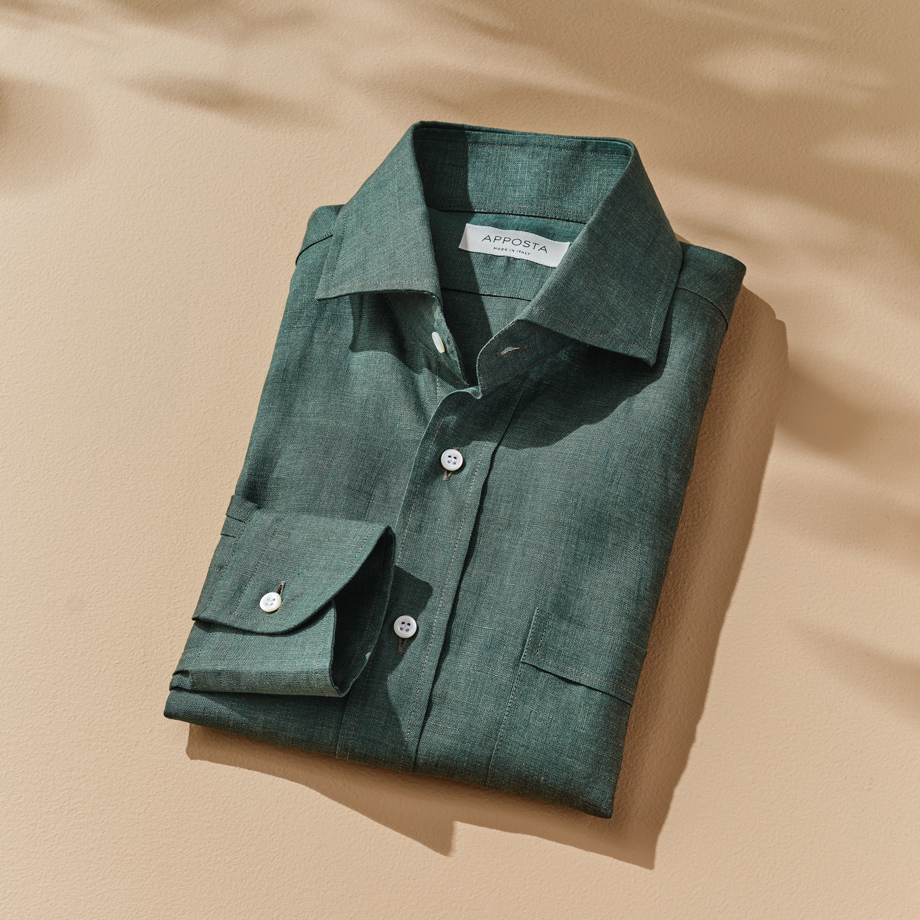 What Are The Benefits Of A Linen Shirt?
Absorbent
Linen can soak up 20% of its own weight before it starts to feel damp. The fabric's absorbent nature means that it can wick moisture off your skin and into its fibres.

Soft
A linen shirt will get softer over time, becoming more and more comfortable with age.

Quick Drying
Linen is able to dry much more quickly than cotton when exposed to moisture.

Cooling
The flax fibre is hollow making it easy for air to permeate it. When coupled with linen's comparatively low thread count, the fabric offers excellent breathability.

Eco-Friendly
The flax plant which produces linen fibres needs only rain water to grow, other fabric-producing plants typically require irrigation and a high volume of water. As it is a natural fibre, flax linen is biodegradable. Insects and pests do not tend to attack the flax plant, so little pesticide is required for growing.

Hypoallergenic
Linen won't agitate sensitive skin or affect those who suffer from allergies as a low thread count means that dust and particles are less likely to become trapped.

Durable
Linen's strong fibres mean it can be washed and worn year after year. The fabric is approximately 35% stronger than cotton.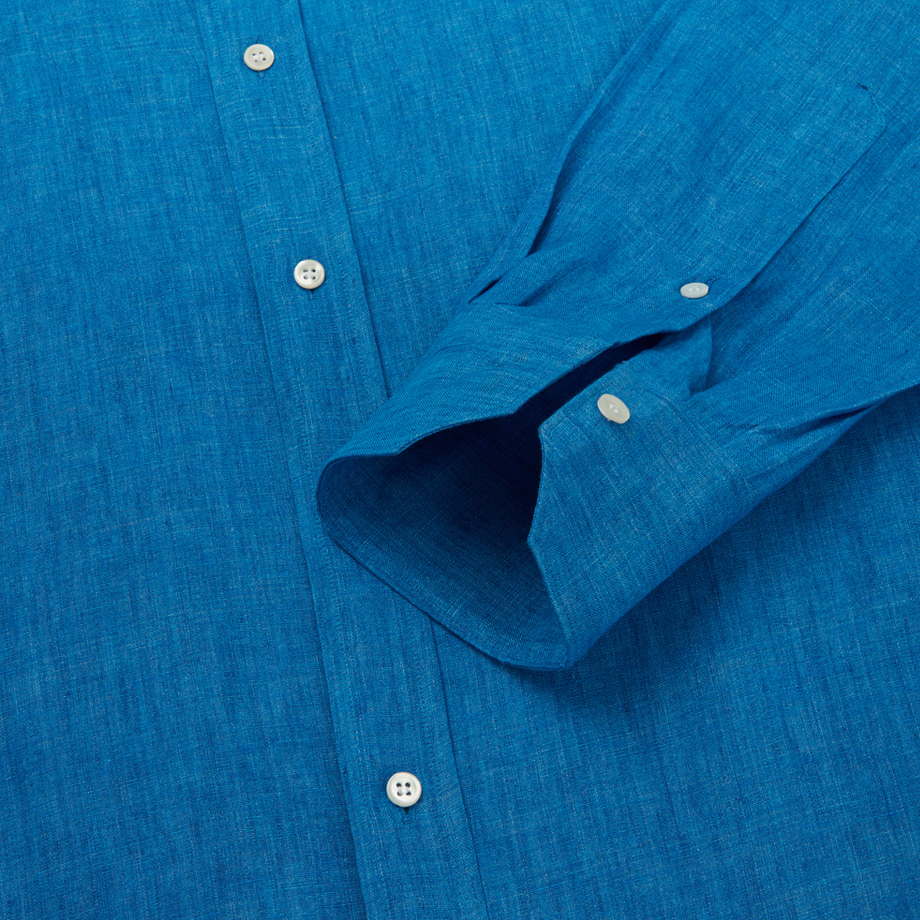 How is Linen Made?
Flax plants are grown for approximately 100 days before they are ready for harvesting. To ensure that the very longest fibres are acquired, the flax plant is ideally hand-harvested and pulled up from the ground or cut close to the root. After this, flax stalks are separated from seeds and leaves with a machine. Next the unusable outer fibres are separated from the desirable inner fibres, the latter of which are then combed into thin stands. These strands are then spun together to become a yarn which is subsequently woven into sheets of linen fabric.


Normandy Linen
Renowned for its superior softness, Normandy linen hails from northern France and is considered to be among the finest linens in the world. The selection of Normandy linen fabrics that you can use to make a custom shirt is sourced from the fabric supplier Albini. Read more.

How To Wear A Linen Shirt
The textured finish of linen gives a casual feel to shirts which are crafted from this fabric. You can wear a linen shirt with many different wardrobe staples, from tailored trousers and chinos to jeans and shorts. Due to excellent versatility, a linen shirt is an essential item to have at your disposal for a hot weather holiday.

For a smarter finish, choose a linen and cotton blend fabric when creating a custom shirt. This particular blend of fabric is ideal for a business shirt or an evening shirt in hot weather as the cotton fibres will add increased formality, while the linen fibres will ensure coolness.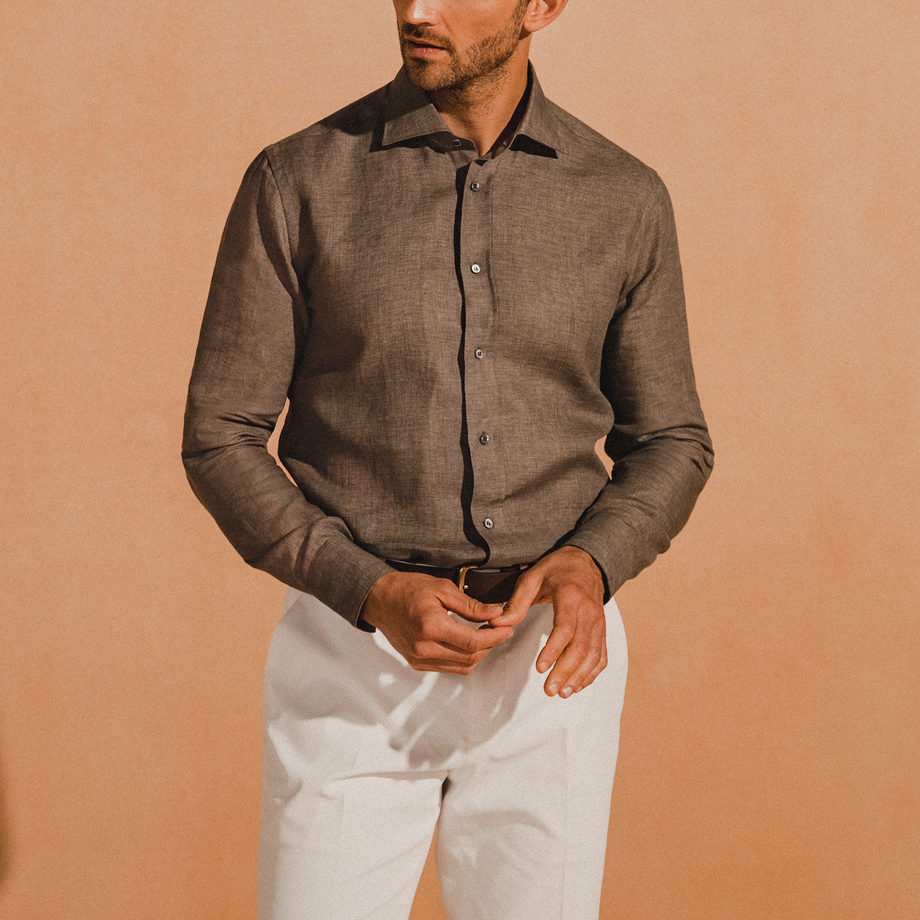 How To Take Care Of A Linen Shirt
Linen is a natural fabric and can shrink, so wash on a cool to warm cycle or by hand.
Use mild detergents to preserve the colour and strength of linen fibres.
If your linen shirt is stained, sprinkle some baking soda onto the affected area, leave for a few minutes, then wash as usual.
Air dry your linen shirt as using a tumble dryer can damage the fibres. Lay your shirt flat on a hanging rack to dry.
Did You Know?
The flax plant from which linen fibres are extracted consists of a single stem and grows to approximately one metre in height.
Linen is thought to be one of the oldest fabrics in the world, with evidence of usage stretching back thousands of years.
In the 18th century, Ireland became the centre of European linen production and the town Belfast was given the nickname Linenopolis.
Linen produces no waste as all parts of the plant can be used.
The mummies of Ancient Egypt were wrapped in hundreds of yards of linen bandages.
Linen becomes approximately 20% stronger when wet.