Shirts For Muscular Men
If you have a muscular body, follow our style tips for choosing the correct shirt for your body.

Staying in peak physical condition is hard work. Finding a shirt with the correct proportions to fit a Herculean frame can be even harder. As a result, muscular men are usually forced to put up with a fit that's either too tight or too baggy. When you've spent years cultivating your body, it seems wasteful to let ill-fitting clothes spoil your silhouette.
Thankfully, there are things you can do to ensure a perfect fit. Bulging biceps, large pectorals and slim waists can all be catered for. Just follow our advice, then finding the right shirt won't be a struggle.
How A Shirt Should Fit Muscular Men
There is a common misconception that a muscular physique looks best in a tight-fitting shirt. This is perpetuated by the fact that a lot of so-called 'muscle-fit' shirts are designed to be as form hugging as possible. Achieving the perfect fit for a muscular body actually relies on the same principles that dictate a good fit for all.
First, it's vital to get the collar measurement correct. Too tight and it will be difficult to fasten your top button properly. Too loose and the shirt will hang incorrectly on your body. You should be able to comfortably fit a finger between your neck and your collar when your top button is fastened.
The shoulder seams of a shirt must sit in the correct place to achieve a sharp silhouette. Seams that extend over the shoulders and onto the upper arm will give the shirt a slouchy appearance. Seams that sit too high will impede your range of motion and feel uncomfortable. Goldilocks territory is right on the edge of your shoulder at the very top of your arm.
Sleeves and cuffs are just as important. When your arms are outstretched, your shirt sleeves should meet the hinge of your wrist and hand, while your cuffs should gently encircle your wrists without feeling loose or tight.
On your torso, fabric should sit flat across your chest without pulling the buttons. Correct length depends on whether the shirt will be worn tucked or untucked. For tucked, make sure you can raise both arms without your shirt coming out of the waistband. For untucked, go slightly shorter towards the top of your buttocks.
Try Made To Measure
Everyone is different. When you're anything but average, finding garments that fit perfectly off the hanger is virtually impossible. The best way to get around this is to invest in a made to measure shirt.
Having a shirt created using your exact measurements is the only way to guarantee a perfect fit. Every inch of your torso is taken into account from the moment the first stitch is sewn. That means no compromises, no size-chart head scratching and no corrective trips to the tailor.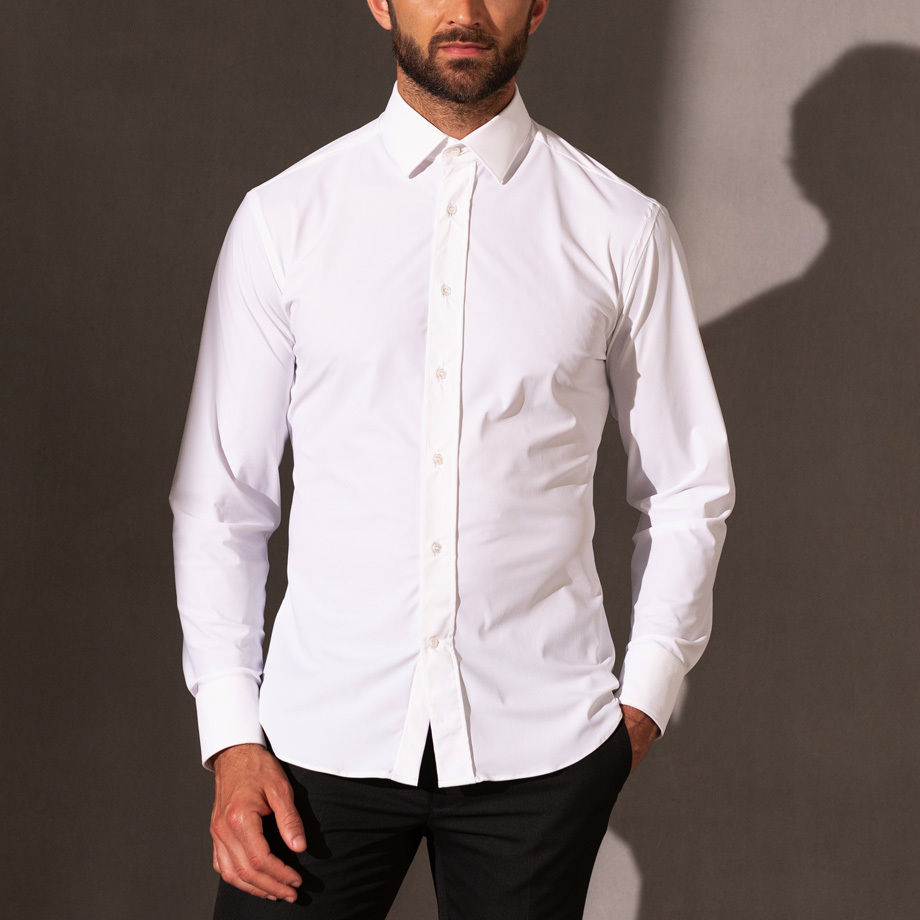 Try A Stretch Fabric
Buying a made-to-measure shirt is one way to guarantee comfort. Another is to opt for a stretch or stretch-blend fabric. This can make your shirt even more pleasant to wear by increasing freedom of movement with a degree of elasticity.
There are several options available to you in terms of stretchy materials. One is blended fabric which contains a stretch fibre such as Lycra-blend. If you'd prefer to steer clear of synthetic textiles, you could go for a pure cotton stretch fabric instead which has been enclosed in a special treatment to increase elasticity without the use of synthetic thread.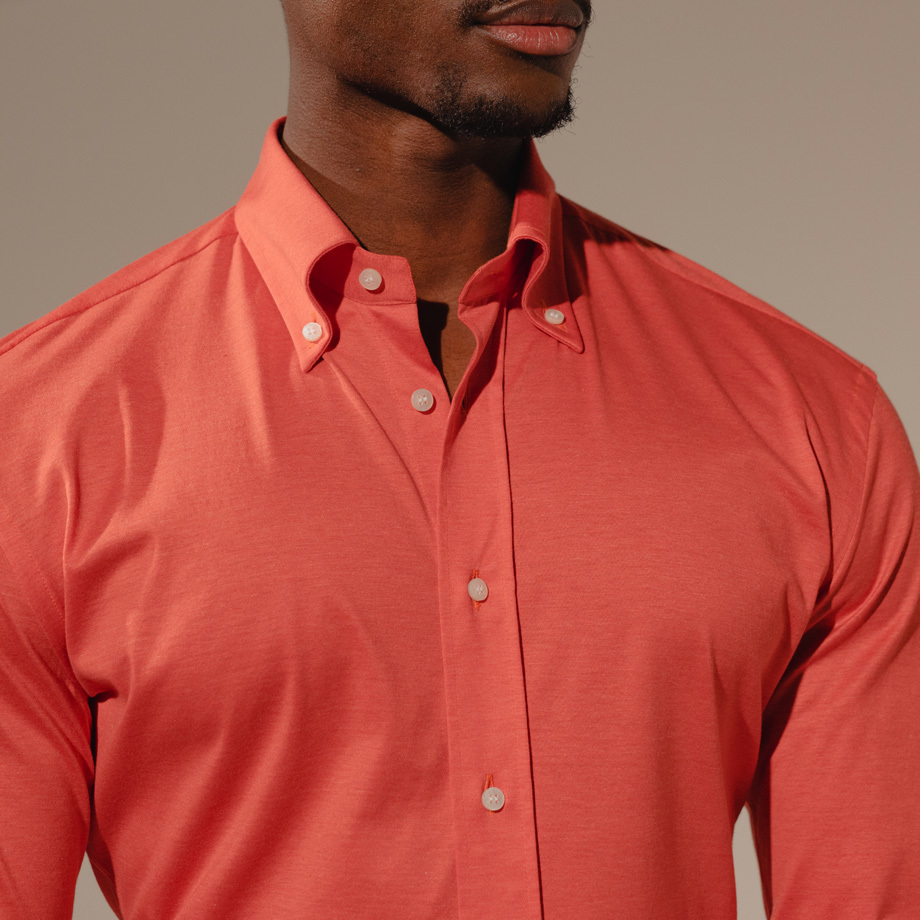 Keep Things Neutral
Your muscles may not be subtle, but the shirt they're wrapped in should be. Bright colours and bold prints feel over the top when showcased on a larger frame. For this reason, it's best to veer away from loud, attention-demanding shirts and to stick to a neutral palette instead.
Simple, understated colours such as grey, navy, beige and dark green can work well. If you do want to experiment with more varied colours, stick to subtle earth tones and autumnal shades. Even classic white shirts can look overpowering on a larger frame, so try muted shades such as pale blue and pink when creating your work wardrobe.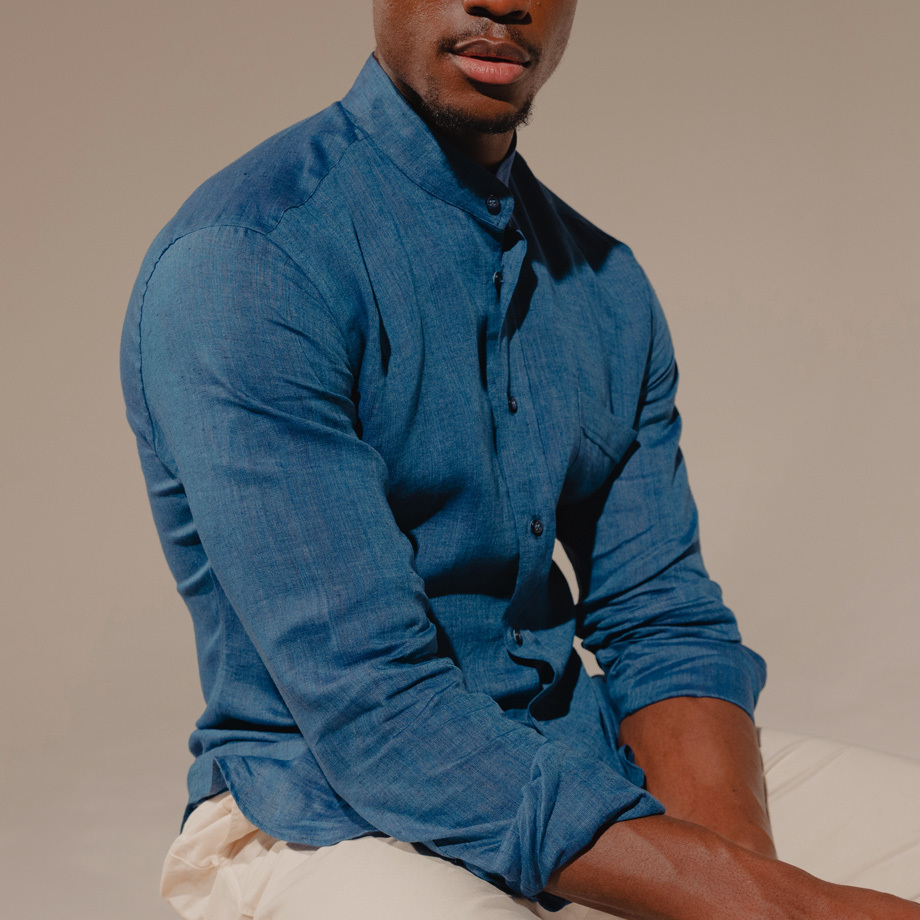 Choose Vertical Instead of Horizontal Stripes
If you must wear a patterned shirt, stripes are the best option. The key is to ensure they're running the right way. Horizontal stripes have a broadening effect and can make the torso appear wider than it really is. For a muscular body shape, the goal is to slim and elongate. In this case, vertical stripes are the best choice.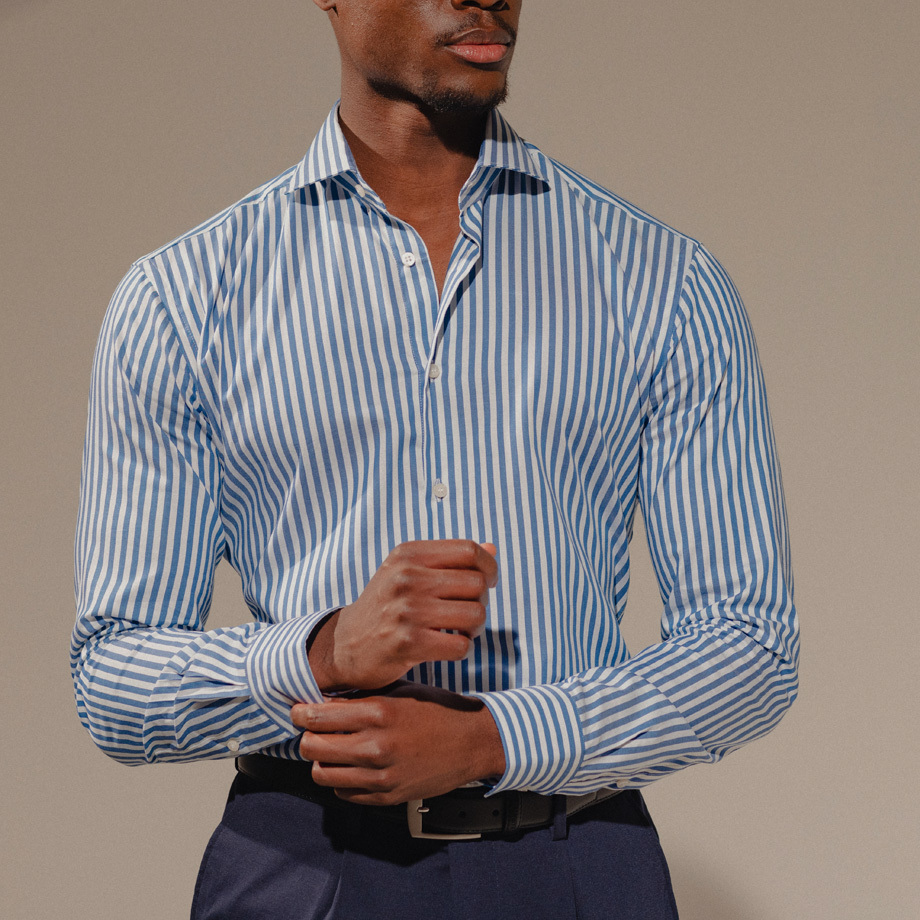 Choose A Light, Plain Fabric
Thick, textured fabrics create bulk. When you're bulky to begin with, it's best to stick to materials that don't increase this effect. Fine, untextured materials are best for muscular men. Think poplin, Egyptian cotton and stretch cotton as opposed to flannel, denim and corduroy. That said, lightly textured fabrics won't make a noticeable difference. So classic shirting materials such as Oxford cloth and twill are still viable options.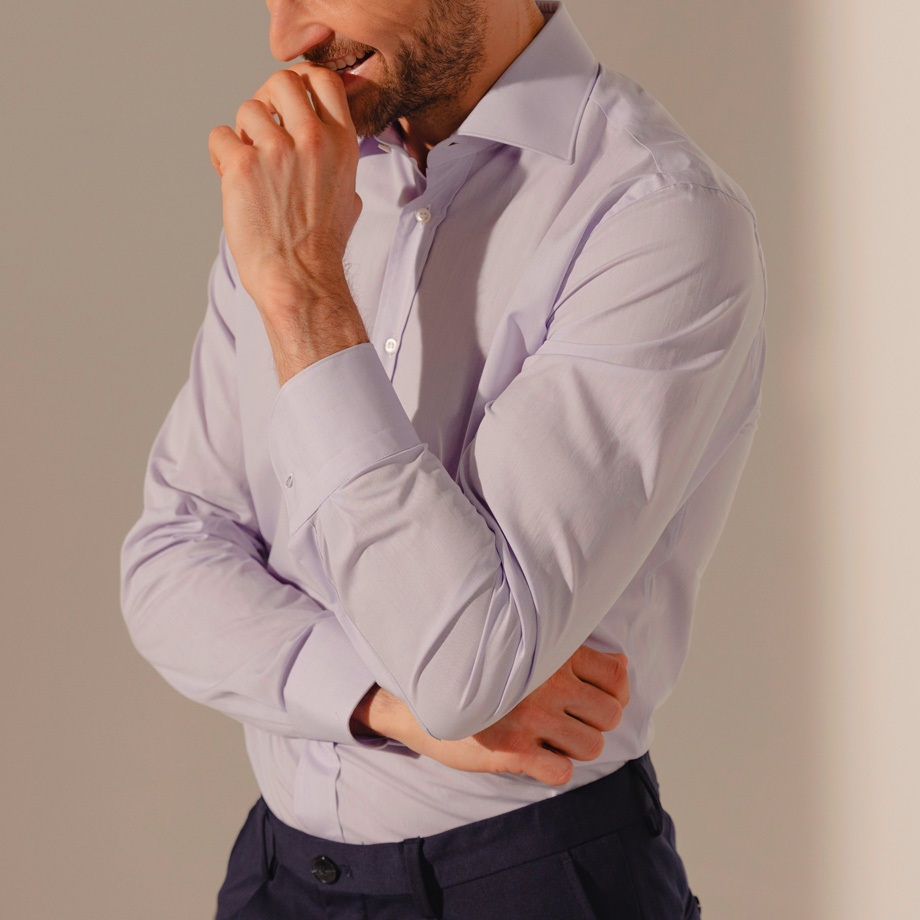 About us
We are Italian custom shirtmakers who combine traditional manufacturing with digital expertise. We enable our customers to create shirts for their measurements and taste online, then we make them in Italy.
Discover more