How To Wear Five Men's Summer Shirts
We've selected five essential men's summer shirts, including the polo shirt and linen shirt, and show how you can wear each one with ease.

It's a common complaint that summer, for all its benefits, can stifle sartorial freedom. A lot of men find themselves stuck in a wardrobe loop, endlessly rotating the same shorts and T-shirts until the weather finally cools down enough to start layering up again. But it needn't be this way.
With a little styling knowhow, it's entirely possible to be well turned out for every conceivable social situation, without arriving hot, flustered and uncomfortable. All that's required are a few go-to looks, which, between them, can cater for every summer occasion.
Using five key summer shirt styles as a foundation, the outfit ideas below cover all bases and run the gamut from sharp and dressed up to breezy and informal.
---
Band-Collar Shirt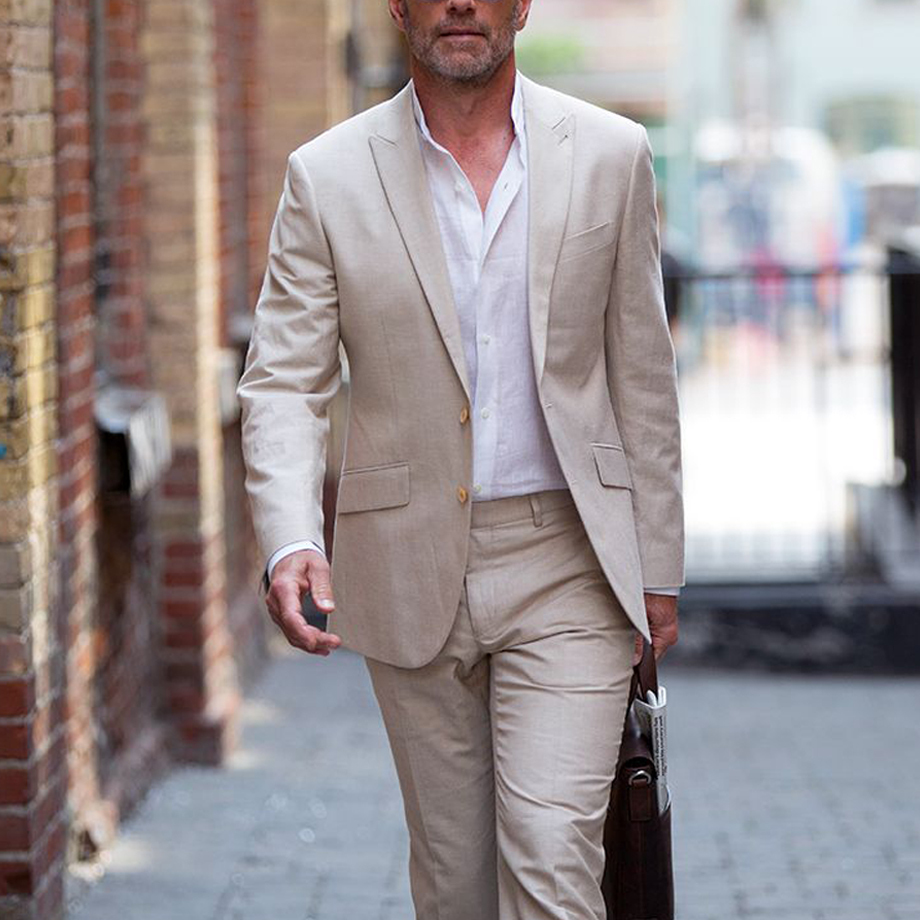 Doing away with a classic straight-point collar is a simple way to make a shirt appear more summery and informal. That's why a band-collar shirt is a must-have for your warm-weather wardrobe. This style of shirt is relaxed yet smart enough to pair with tailoring and can lend simple outfits some character when worn in place of something more traditional.
One way to use a band-collar shirt to your advantage in the summer months is as a tool to dress down tailored looks. Team a linen band collar shirt with a seasonally-appropriate suit or separates - think airy fabrics and light colours - and wear it unbuttoned slightly for an added touch of nonchalance. Footwear-wise, loafers in suede or leather are a great choice for the warmer weather.
Conversely, a band-collar shirt can also be used to dress casual looks up. Worn in place of a T-shirt or polo shirt, it can make simple summer outfits feel more considered and purposeful, without straying too far into 'smart' territory. Try teaming a white band collar shirt with a pair of blue jeans and brown loafers for a stylish summer daytime look.
---
Chambray Shirt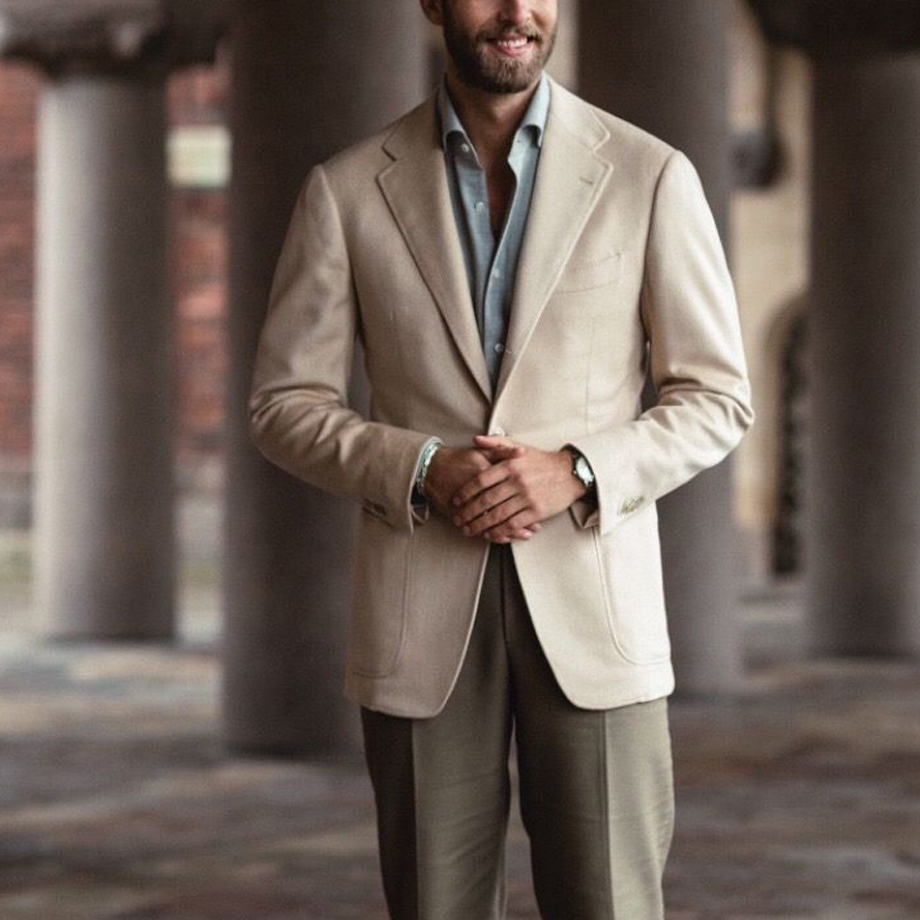 The denim shirt is one of menswear's true classics, but the thick, heavy nature of the fabric can make it uncomfortable to wear in warmer weather. Opting for a chambray shirt instead offers a similar look but utilises a lighter, more breathable fabric. Don't let its weight fool you though; chambray is still substantial and durable.
One foolproof way to wear a chambray shirt in the summer is with light legwear. Shades of white, cream, beige and stone work nicely with the indigo tones typical of this fabric, creating a clear contrast between your top and bottom half. Brown suede footwear such as loafers will complete the look nicely, or alternatively you could try a pair of white slip on sneakers for an even more relaxed look.
Chambray and denim may be different fabrics, but wearing both together should still be approached with a degree of caution. If you must wear jeans, the trick is to ensure the shade of denim is different enough to that of the shirt to create some contrast. Pale chambray must be worn with dark denim and vice versa.
---
Striped Shirt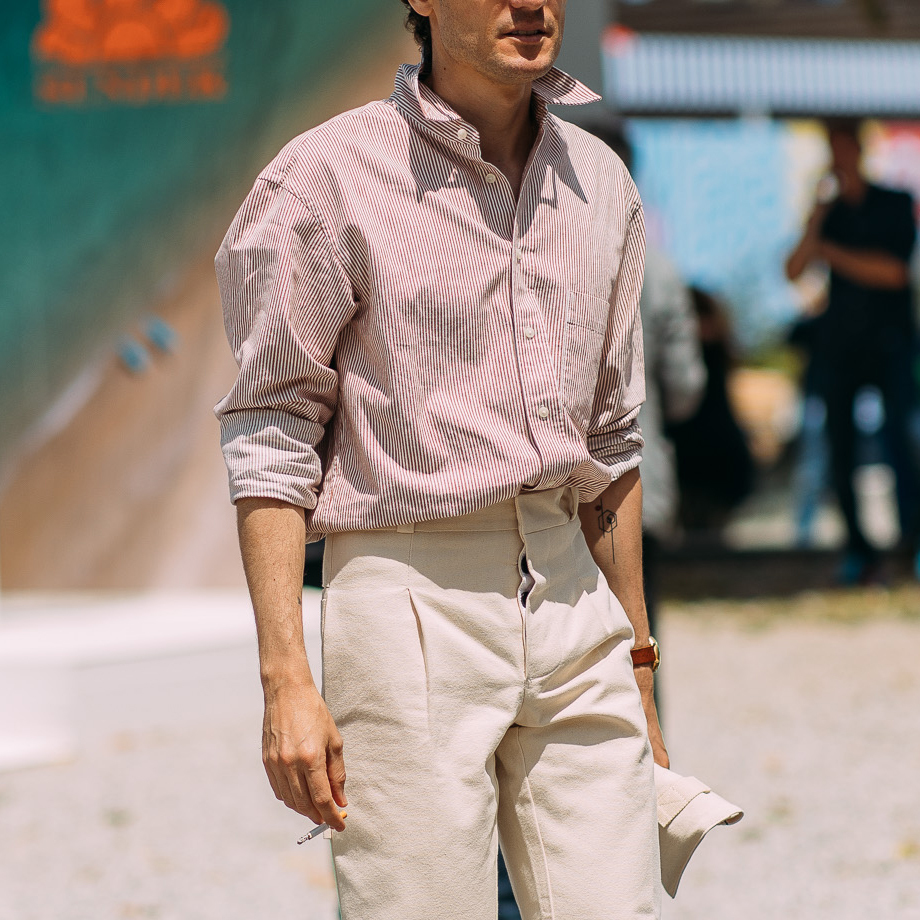 Wearing a striped shirt is a classic way to inject some colour and pattern into summer looks. Stripes catch the eye and can give otherwise understated outfits a clear focal point. There's also a school of thought that suggests that vertical stripes are slimming. Whether that's true or not is open to debate, but it may still be something worth taking into account if you're body conscious.
This type of garment - one with colour and pattern - will work best with subdued partner pieces. Think plain, block-colour trousers and understated outerwear, if any at all. Patterns don't like fighting patterns for attention, so by keeping the rest of your outfit understated, you allow the shirt to come forward and take centre stage.
---
Polo Shirt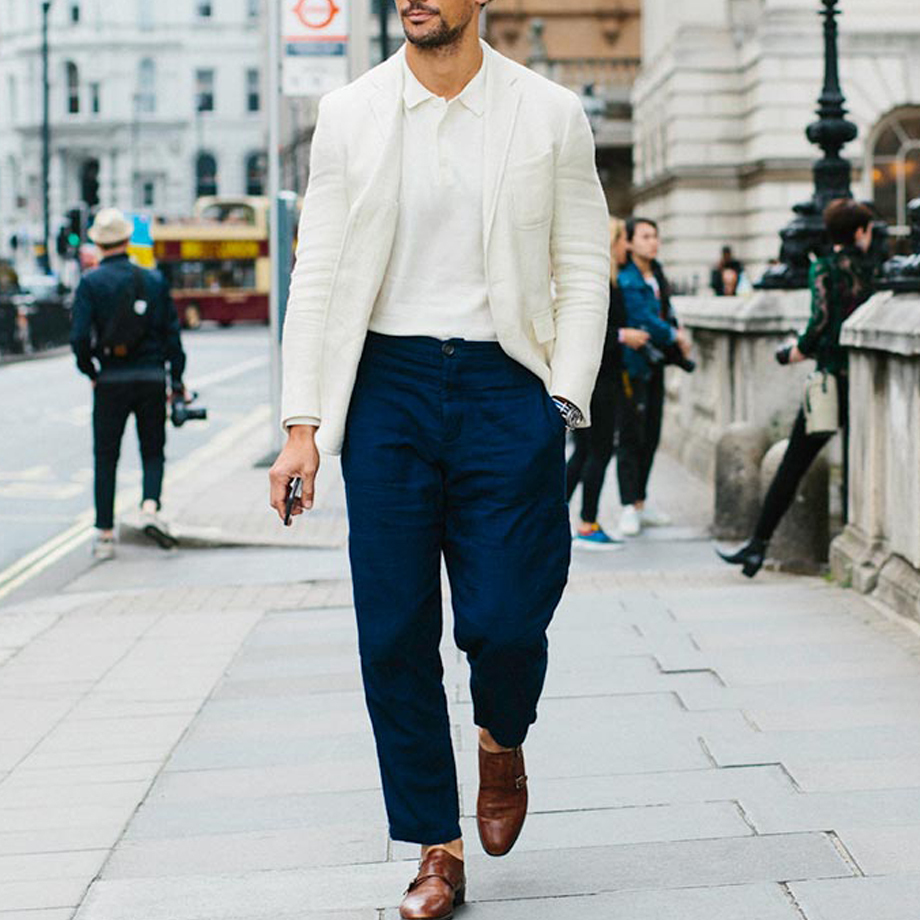 The humble polo shirt may just be the perfect summer garment. It's casual and comfortable, but is also a touch smarter than a plain old T-shirt. The signature pique cotton is light, airy, stretchy and breathable, making it perfectly suited to warm-weather outfits.
Opting for a neutral shade or a simple block colour bolsters the polo shirt's versatility. If you're not comfortable with punchy block colour, grey is always a safe bet. Try styling yours with navy chino shorts and a pair of white leather trainers to give a nod to the garment's sporting roots.
For a smarter take, use a polo shirt to tone down the formality of a suit. Wearing one in place of a dress shirt will immediately achieve a more laid-back feel while still retaining a degree of smartness thanks to the collar. If you do go down this route, make sure to keep your footwear similarly casual. That's not to say you should wear trainers, but suede loafers or Derby shoes in place of black leather would be a smart move.
---
Linen Shirt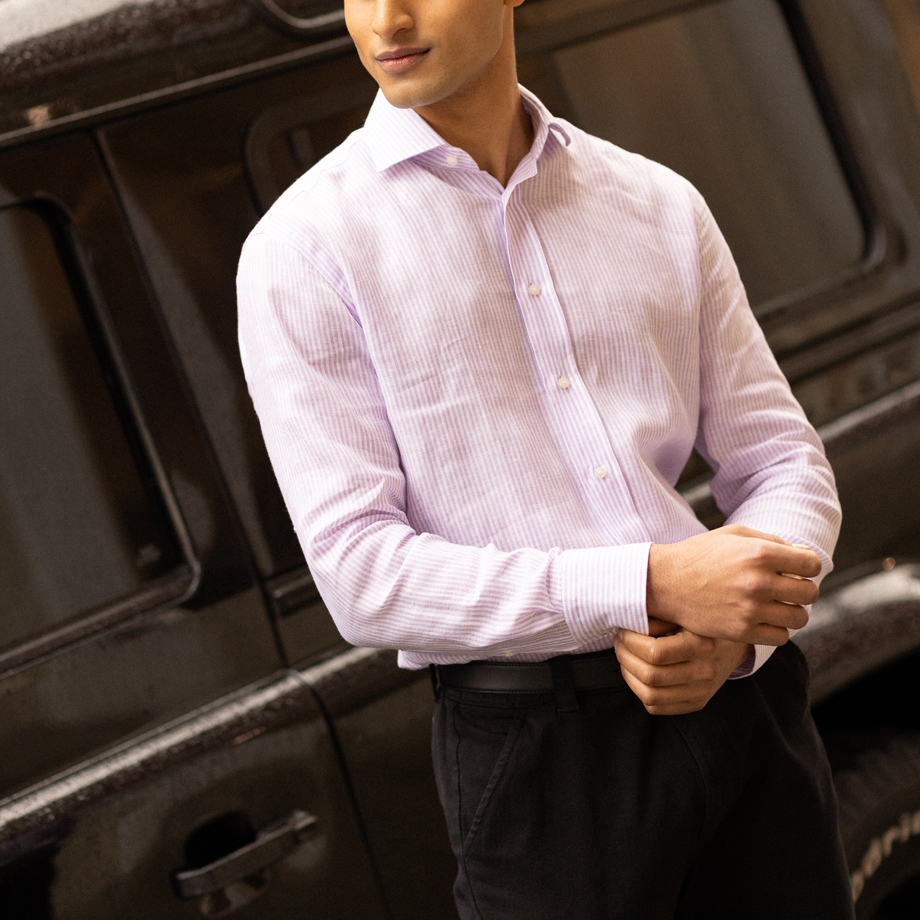 Believe it or not, linen has been in use since around 8,000BC, making it the world's oldest fabric. The fact that it's still widely used to today is testament to its numerous benefits. A linen shirt is light, breathable, quick drying and great at wicking moisture away from the skin. In other words, you'll struggle to find a better shirt material to carry you through the summer months in style.
Linen shirts work particularly well in light colours. Think white, cream, beige or similar. Aside from looking good, the light colour will help to reflect the sun, reinforcing the material's cooling properties. If you do opt for a light, neutral shade, go for legwear in a contrasting colour to ground your look. Light legwear can work, of course, but it is best reserved for the year's hottest, sunniest days.
Another way to wear a linen shirt in the summer is with tailoring. A pastel linen shirt in either light blue or powdery pink is the perfect accompaniment to summery suits, particularly when the suit in question is light in colour.
---
Custom-Made Summer Shirts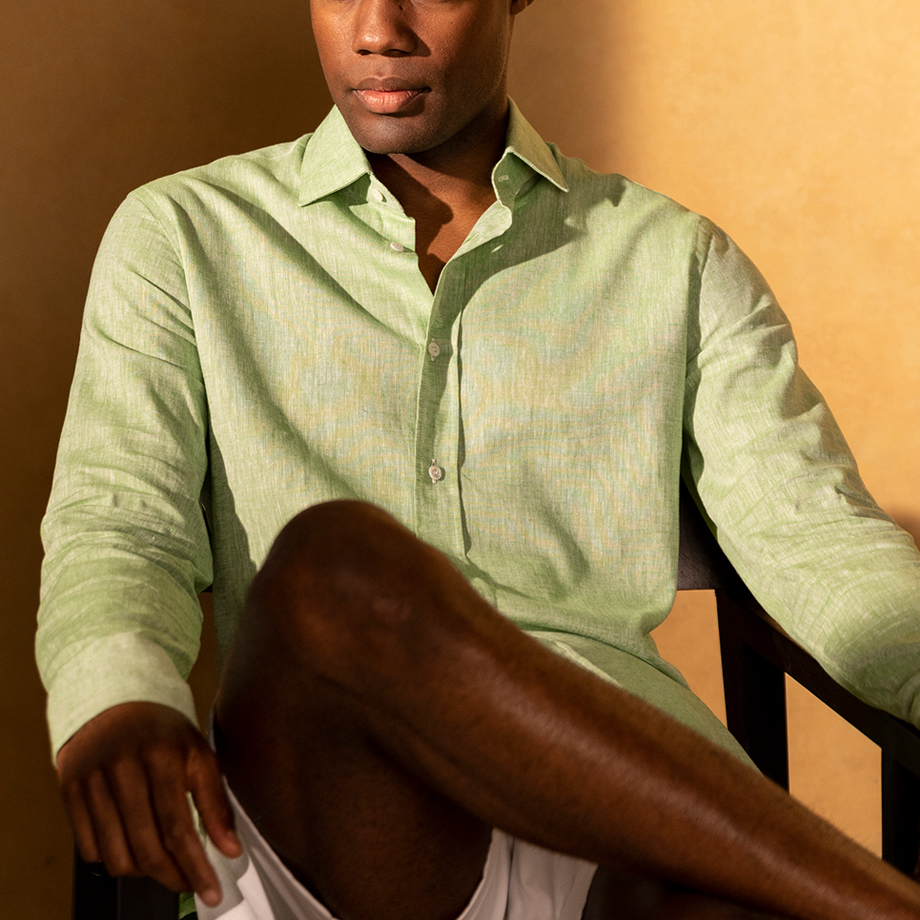 About us
We are Italian custom shirtmakers who combine traditional manufacturing with digital expertise. We enable our customers to create shirts for their measurements and taste online, then we make them in Italy.
Discover more