How to Dress for a Job Interview
Your resumé's intact, you know you're qualified for the job, and you've got your hire-me speech down to a T. Interview time. Not quite – there's just one thing left to do: decide what to wear to wear.
First impressions really do count. Whether the meeting's IRL or via Zoom, you must dress the part. If you want people to listen to you and to view you as confident, the way that you dress will have a huge impact.
The challenge here is that there's not a one-size-fits-all interview outfit; different jobs call for different attire. So, just like you research the job, you need to research the dress code of the company. To do this, you can either ask your contact who arranged the interview, or if that is not possible, you can look on the company webpage in the about section where they might have team photos. Or you can try their Linkedin Profile where they would post photos of office activities. And once you get an idea of what's deemed suitable, take that and turn it up a notch smarter. But generally speaking, there are two approaches to interview dressing.
The first is Corporate Traditional, which is the most formal and should be considered when working in the bank and law firm industries. The second is Business Casual – for jobs within companies that are considered slightly more modern, such as tech and start-up companies.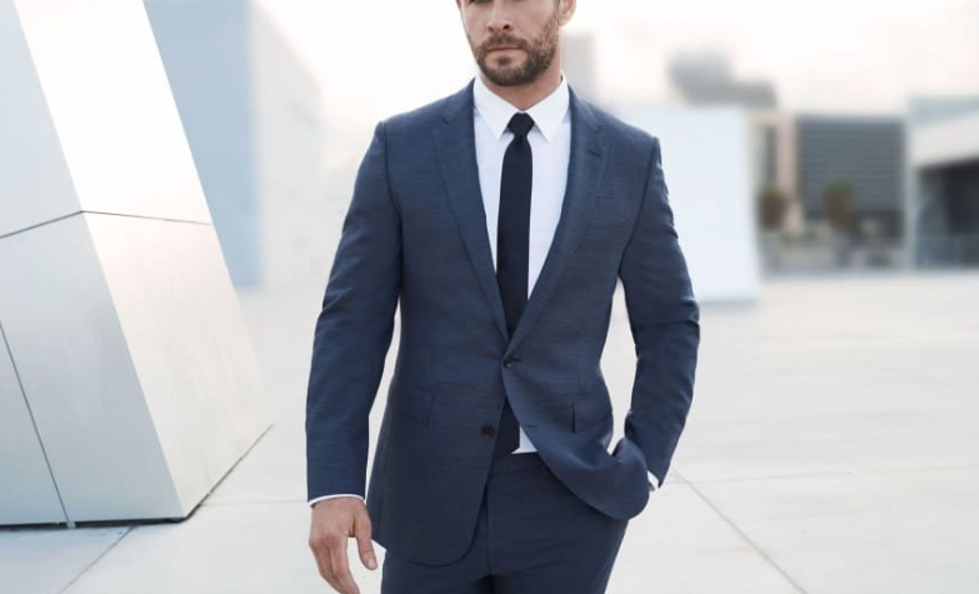 How to dress for a traditional interview
So starting with Traditional Corporate – probably the easiest to dress for because it requires a straightforward suit, no fuss, just polish.
Start with a dark suit, such as navy or grey (avoid black as it's a bit harsh). And make sure the jacket and trousers are cut from the same cloth, this will show you are a serious dresser and serious about the job. A dress shirt in solid white or light blue – white is more formal. An understated tonal pattern such as twill is acceptable, but no prints. Your shirt should also have the right cuff: an angled cuff is your safest bet because it's sharp and clean – avoid a French cuff as it's too formal and usually reserved for black tie. For the finishing touches: a solid colour skinny or slim tie tied in a half-Windsor knot – if you want to show some personality, you can afford to sport a subtle pattern, but keep it classic and stick to stripes or small tiled traditional patterns but nothing pictorial or gimmicky.
If your interview is in person (as opposed to Zoom), you'll also need to think below the belt. Select dark socks to match the suit, a pair of well-shined black or brown Oxfords, and one accessory, such as a leather strap watch.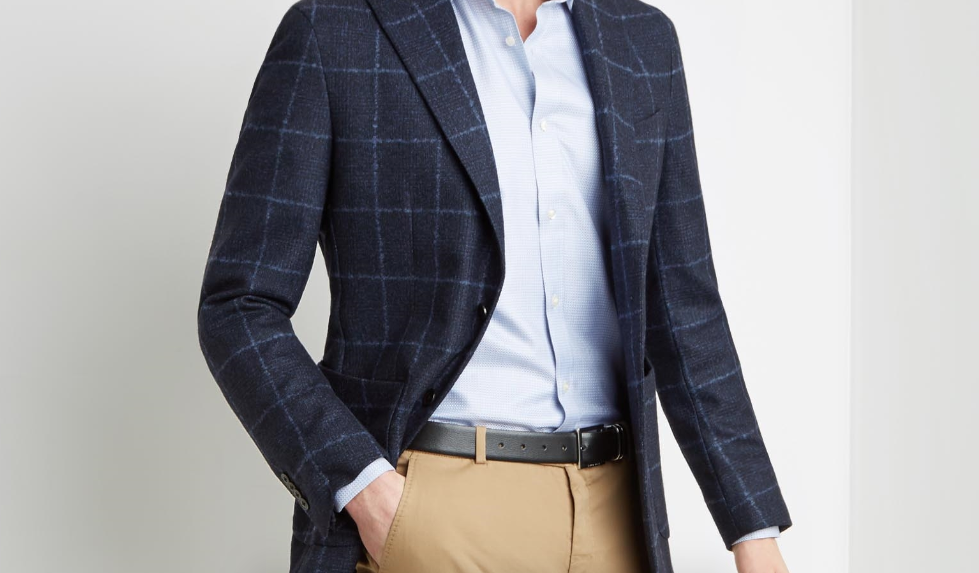 How to dress for a business casual interview
For Business Casual aka modern start-up jobs, you want to lose the suit.
There's nothing worse than turning up to an interview in your best three-piece to discover your interviewer in a button-down Oxford and casual slacks. It's fine to feel smarter than the person you're meeting but it's not advisable to go over over dressed – it could come across as ignorant, that you haven't done your research, or worse, that you won't fit in. And remember, if you're interviewing at a start-up or tech company, it will have a younger culture, and a more contemporary approach to outfitting.
Your look should consist of something like the following: a sport coat or blazer in a non-offensive colour such as brown, blue or grey – a subtly patterned jacket will add a nice touch if the role you're applying verges on the creative side. Trousers or chinos (never jeans) should complement your top half but do not have to be cut from the same cloth or co-ordinate in colour to the jacket. Consider a belt if your trousers/chinos are not as tailored as your suit trousers, it will enhance fit and add definition to your look. A white or light shirt is your safest bet if you're introducing neutral shades elsewhere, plus it will add freshness to your look. An Oxford shirt will show you understand the company's more laid back approach to dressing, just make sure it's pressed well and tucked into your trousers neatly. A tie is optional, depending on the company – you could always take one just in case you feel underdressed when you get to reception. Also, take the day of the interview into consideration e.g.
Fridays tend to be more casual in most offices. A pair of wingtip shoes or brogues in brown or black will complete this look.
How to dress for a video interview
Of course, if your interview is taking place digitally because the company is working remotely, you won't need to worry about footwear, or anything below the waist. Saying that, it is advisable to stick to the suggestions above regardless of interview location.
You will still be judged on the effort you've made to dress accordingly in person or via video. It could be the case that your interviewer appears slightly more casual than you had expected, but that's OK, these are changing times and he or she is most likely dressing for comfort. If you're unsure whether you looked the part even though you did your research, it's OK to follow up the meeting with an email or phone call to HR to discuss the company's WFH dress code, if there is one.
Dos and don'ts
So now you know what you're going to wear to your interview, here are some overall dos and don'ts to consider before the big day:
Do pick out your outfit the night before.
Don't forget to polish your shoes.
Do check your clothing for marks – get clothing dry cleaned if required.
Don't wear denim, no T-shirts or collarless shirts.
Don't get a haircut two to three days before.
Do shave the night before (not the day of).
Did you know?
The colours you wear can say a lot about you. For example, darker colors convey leadership and can make you appear serious. Think dark blue or grey suit, blazer and trousers. Light colours make you appear organised. Think white or light blue shirts. And bright colours convey power and boldness. Think accessories such as a tie or pocket square.
About us
We are Italian custom shirtmakers who combine traditional manufacturing with digital expertise. We enable our customers to create shirts for their measurements and taste online, then we make them in Italy.
Discover more
---