How To Wear A Men's Polo Shirt
From a brief history to how to wear now and what design features to look for, here's everything you need to know about men's polo shirts.

There are precious few garments capable of performing on the playing field, relaxing with casualwear and rubbing shoulders with tailoring, but the polo shirt is one of them. Over the course of the last century, this versatile item of clothing has made its way off the tennis court and into wardrobes, stopping off at many of menswear's most stylish subcultures en route.
To call it a staple would be an understatement; the polo shirt is a fully fledged wardrobe essential which no man should be without. It comfortably bridges the gap between smart and casual, and can make difficult-to-dress-for occasions that little bit easier to navigate.
Here we take an in-depth look at one of menswear's true hero pieces, including its surprising history, buying considerations and a few key styling tips.
---
A History of Polo Shirts
Technically, the first 'polo shirts' appeared in the late 1800s. They were long-sleeved, cotton shirts designed specifically for playing polo and featured a button-down collar to stop the collar points from flapping up during play. These early garments had little in common with the pique-cotton, collared pullovers we call polo shirts today, which, ironically enough, have their roots in a different sport entirely.
The modern pique polo was born on the tennis courts of the late 1920s. Much like garments for polo, traditional tennis whites prior to this time featured a long-sleeved, button-down shirt which was thick, heavy and impractical to wear during sports.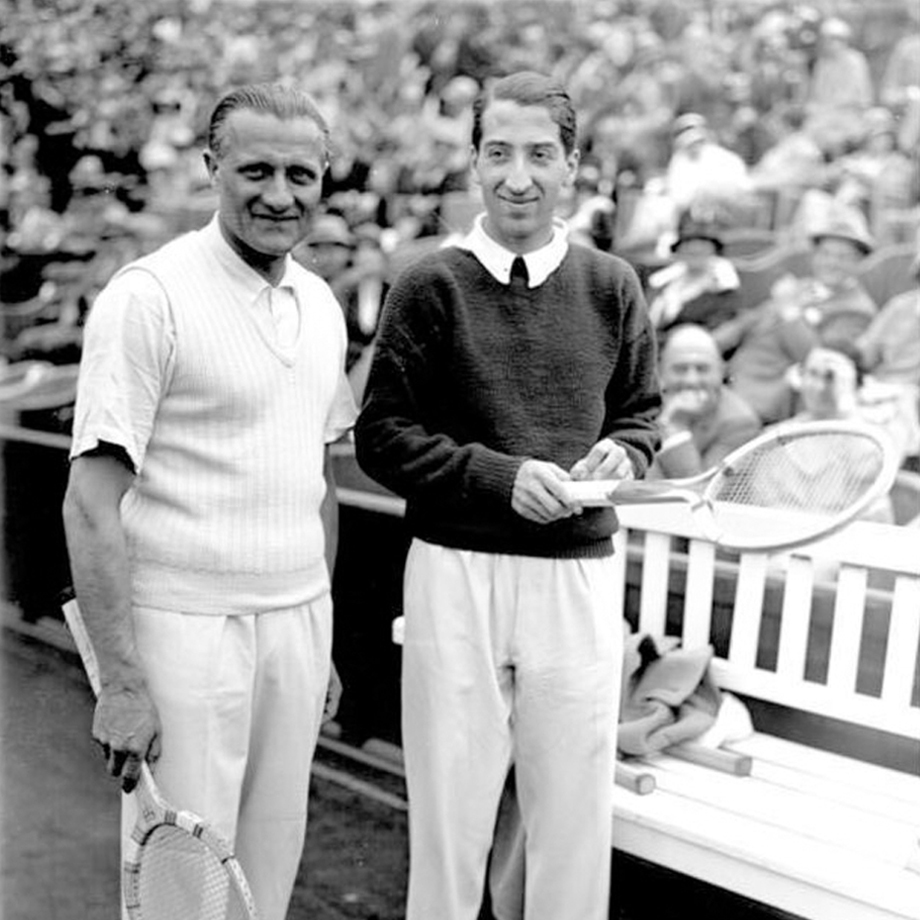 In a bid to address this, legendary sportsman, Rene Lacoste, introduced his own short-sleeved, three-button tennis shirt. It was made from lightweight, stretchy pique cotton, which improved mobility, breathability and was far more comfortable on the court.
The new and improved tennis shirt was a runaway success, but its misleading name and preppy image were only cemented when the garment reached US shores. Designer Ralph Lauren adopted the silhouette in the 1970s for his newly launched 'Polo' line. It was known simply as the 'polo shirt' and the name stuck.
In the years that have elapsed since then, the polo shirt has found its way onto the shoulders of influential style tribes such mods and skinheads, and has been famously worn by everyone from James Bond to David Beckham.
---
How To Wear A Short Sleeve Polo Shirt
The short-sleeve polo shirt is a fair-weather favourite which can be dressed up or down with ease. Casual is its default setting, but it also can be worn with anything from tailoring to resort wear.
A classic white polo shirt in pique cotton is a sporty yet smart piece that can be worn in a variety of ways. On a hot summer's weeknd, wear one with dark chino shorts, deck shoes or loafers then finish with a leather belt. For more of a laid-back, poolside-friendly look, simply swap the chino shorts for swim shorts and add a pair of trainers or sandals.
As a general rule, darker coloured polo shirts tend to look smarter. With that in mind, a black or navy polo shirt can work well when worn with tailored pieces, providing a stylish way to dress a summer suit down for events such as summer weddings and cocktail parties. A dark polo shirt worn with a linen suit in a light, neutral shade will create desirable contrast of colour and texture.
For something punchier, select a polo shirt in a vibrant block colour and style it with simple pieces such as chinos in beige and black penny loafers. This will allow the colourful polo shirt to take centre stage, creating a summery look that's eye-catching without being overbearing.
---
How To Wear Long Sleeve Polo Shirt
Short-sleeve polo shirts are ideal in the warm weather, but a long-sleeve version is better for cooler days, as well as for autumn and winter. This type of polo shirt can be an excellent alternative to an Oxford shirt in certain situations. Worn with tailoring, for example, it brings a degree of modernity to the table. It's still sufficiently smart, but without veering quite as close to 'stuffy' territory. Wear a long-sleeve polo shirt with a pair of tailored trousers and throw a matching blazer over the top to add a casual edge to your tailoring. For bonus points, make sure the tailoring and the polo are in contrasting shades to one another.
A long-sleeve polo can also work nicely as part of a pared-back, minimalist look. Simply style a plain, long-sleeve polo with some unwashed indigo denim and a pair of crisp white trainers for a clean, everyday look that will never go out of style.
---
What To Look For In A Pique Polo Shirt
The humble polo shirt is one of the fundamental building blocks of any well-stocked wardrobe. This is why it's so crucial to get it right. There are a number of considerations that will allow you to select the polo shirt that's right for you, ensuring a great fit, longevity and comfort.
The Fit
As with any garment, an excellent fit is key. Generally speaking, a polo shirt should be slim-fitting without being in any way restrictive, the hem should fall a couple of inches south of the beltline and the arm seams should sit neatly on the shoulders, as with other shirts. Naturally, fit will vary significantly from person to person, which is why opting for a custom-made polo shirt design is a surefire way to guarantee the right fit. This isn't always possible with off-the-peg options.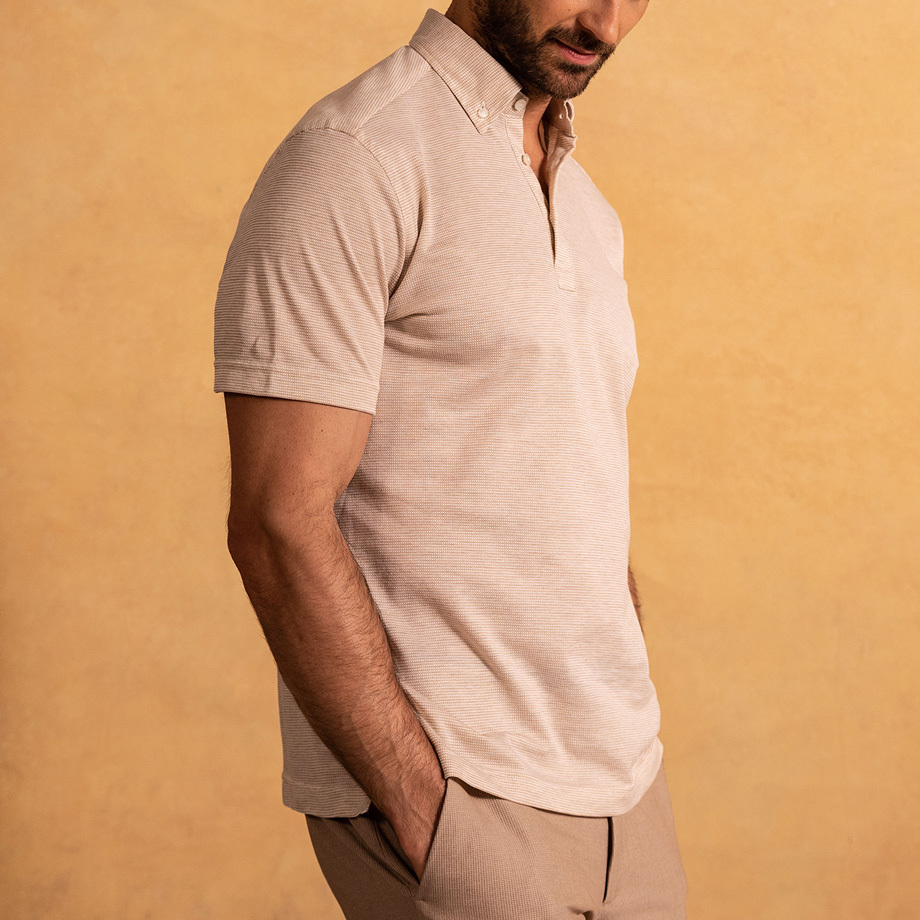 The Fabric
Fabric is another important point to consider. There are plenty of options out there - terry cotton, wool knits and jersey to name a few - but classic pique cotton remains the most versatile choice. This light and airy fabric is stretchy, breathable and provides some texture for an outfit.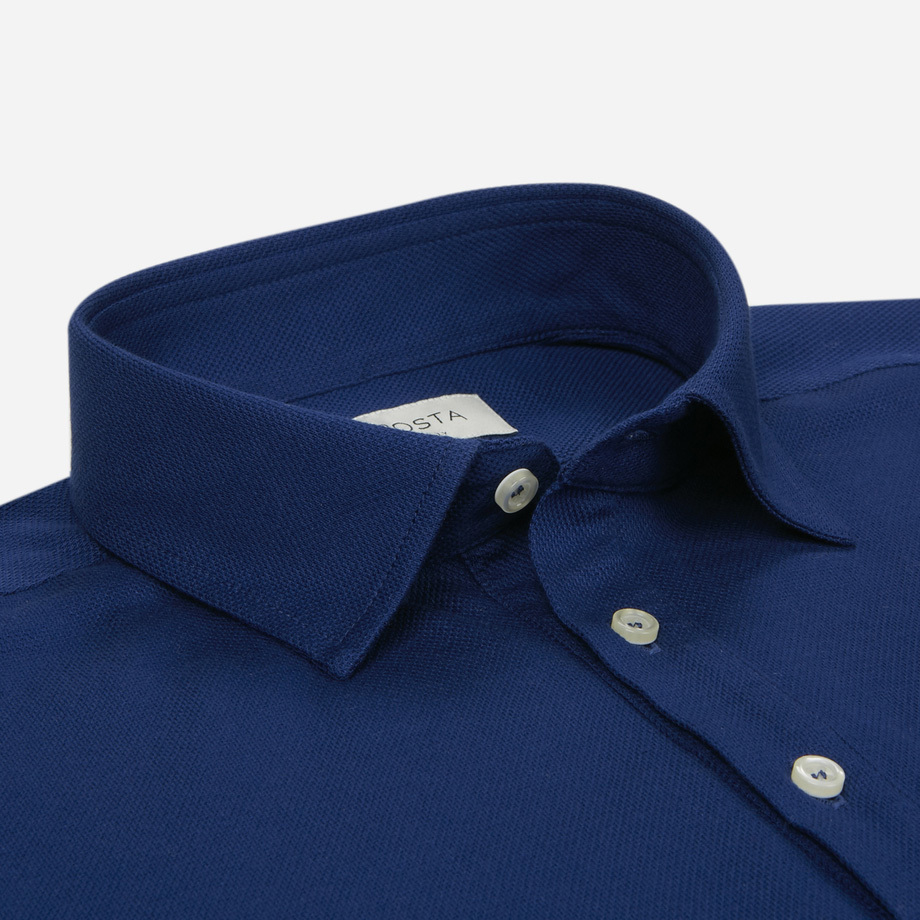 About us
We are Italian custom shirtmakers who combine traditional manufacturing with digital expertise. We enable our customers to create shirts for their measurements and taste online, then we make them in Italy.
Discover more