Introducing: The One Piece Collar Shirt
Find out more about our latest design feature, the one piece collar

The one-piece collar is the latest design feature that you can add to your custom shirt on Apposta.
What Is A One Piece Collar?
A one piece collar is a collar style cut from a single piece of cloth which extends down the front of the shirt to form the placket. This construction technique does not have a collar band which creates a distinctive 'rolling' shape.
The design first became popular in the mid 20th century. One of its most notable wearers was Hollywood actor Gary Cooper. For this reason, the one-piece collar is sometimes referred to as a 'Cooper collar'. Other names include the 'Ludo collar' and the 'California collar'.
The thing that makes the one-piece collar stand out (and up) is its flowing construction. Most traditional collars feature a collar band. Without this feature, the one piece collar makes a gentle roll as opposed to a precise fold.
Another unique feature of the one-piece collar is the fact that it runs straight into the shirt's placket. They're cut from the exact same piece of cloth rather than stitched together.
Due to this construction style, one piece collars are more difficult to make than standard collars. They need the skills of a pattern cutter to get the shape right, which means they're almost only found on made to order shirts.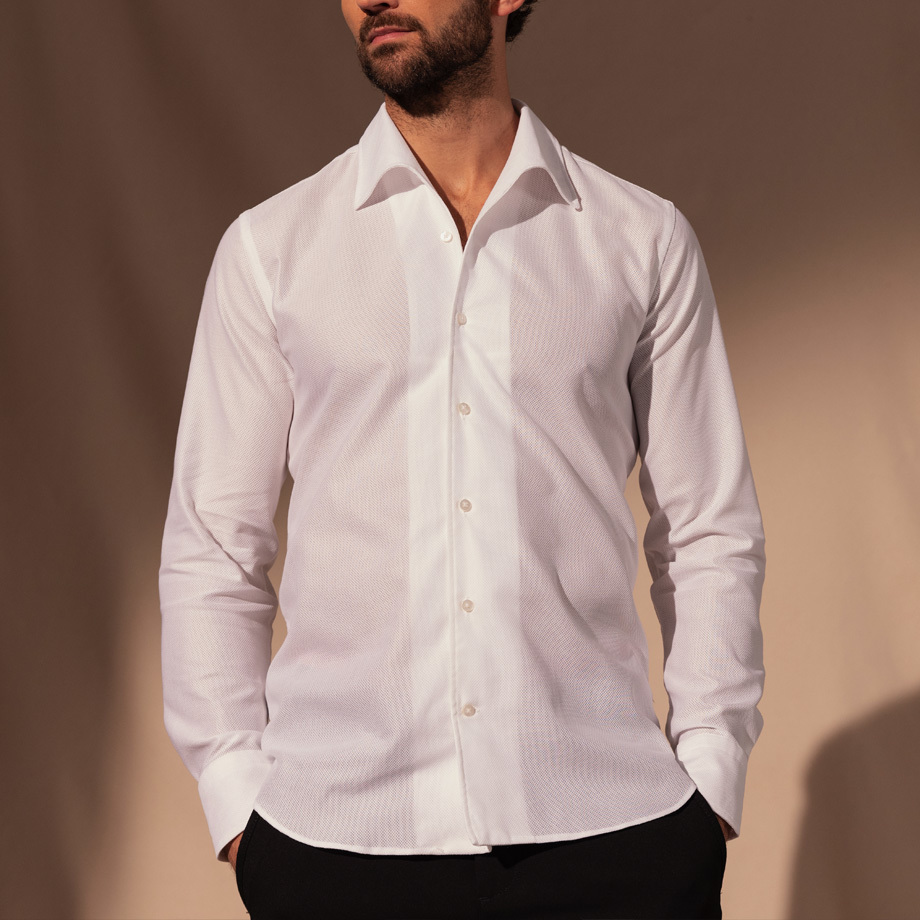 How To Wear A One Piece Collar
A key benefit of the one-piece collar is that it looks good without a tie. The rolling curve of the fabric sits well with a blazer while holding its shape naturally.
This collar style works best with casual tailoring in the warmer months. For a casual summer outfit try a chambray one piece collar shirt with a cream linen tailored jacket. Finish with a pair of navy trousers and brown suede shoes.
As a smarter alternative try a white Oxford shirt with a one piece collar can be worn with a navy suit jacket. Add matching suit trousers and a pair of black leather Derby shoes to complete the look.
About us
We are Italian custom shirtmakers who combine traditional manufacturing with digital expertise. We enable our customers to create shirts for their measurements and taste online, then we make them in Italy.
Discover more
---