Summer Outfits Men Should Try
Here are some suggestions for what to wear during the summer to keep you looking stylish



Although it may seem complicated, dressing well for summer involves two stages. The first step is choosing the correct garments, colours and fabrics. The second is pairing them in a harmonious way. This article will guide you through outfit examples and summer wardrobe essentials.
Types of Summer Outfits for Men
Casual Weekend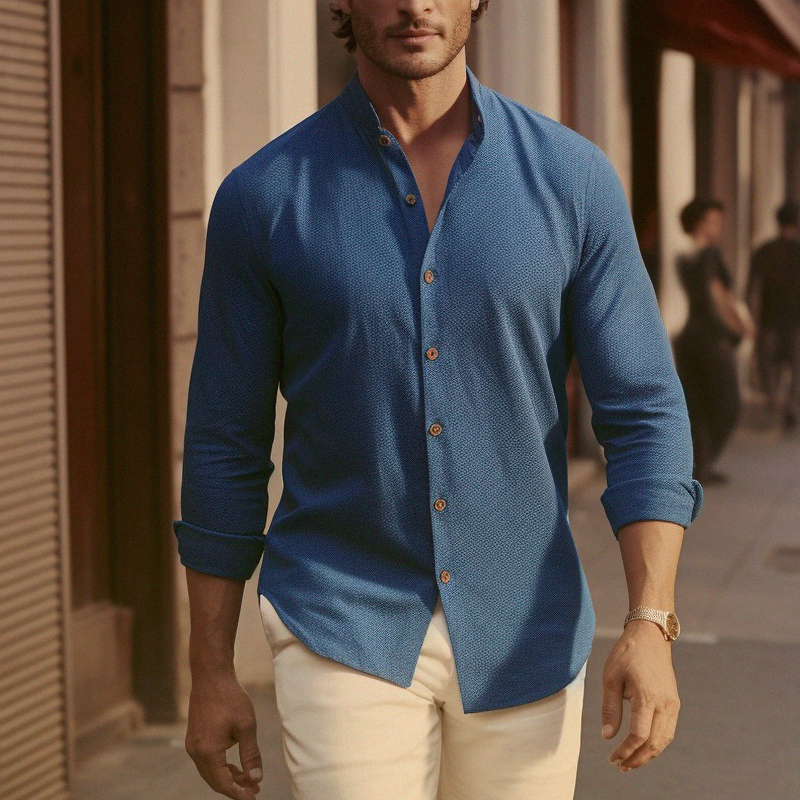 The key to staying stylish in a casual look in summer is to not go too casual. Try a simple band collar shirt with tailored chino shorts in black, navy or beige. Wear canvas or suede espadrilles in a neutral shade such as brown, tan or cream instead of trainers. By avoiding sportswear, you will strike the right balance between casual and stylish.
Hot Weather Holiday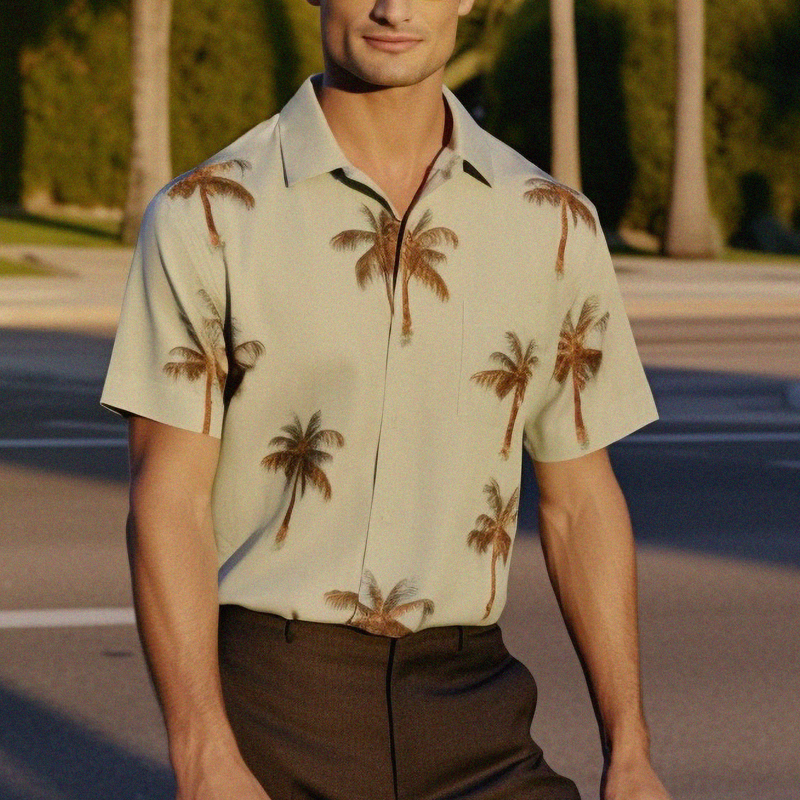 On a summer holiday, you have more licence than usual to wear something bold. Try a printed camp collar shirt which will add a retro-inspired feel to your outfit. Keep the rest of your outfit simple. Dark navy or black loose lightweight trousers will complement the bold print. Finish with some brown leather sandals.
Summer Office Business Casual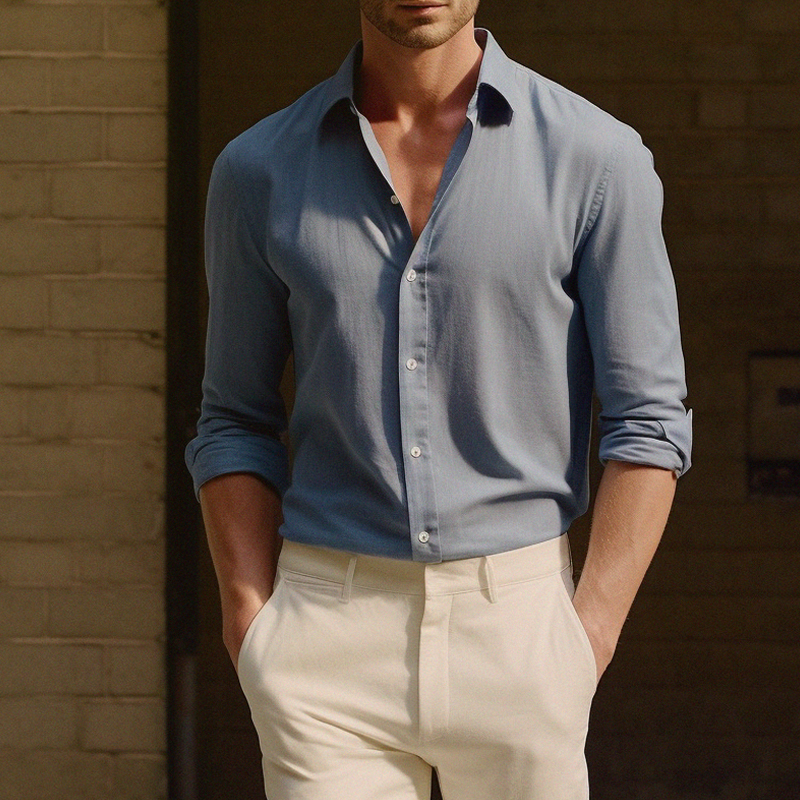 Dressing for the office in summer is not an excuse to wear your most casual clothes. You should still aim to follow a business-casual dress code if your office permits. Try a blue chambray shirt with the sleeves neatly rolled up. Avoid details such as popper buttons which appear too casual. Tuck your shirt into a pair of light coloured chinos to add smartness to your styling. Finish the look with some pale grey socks and brown penny loafers.
Summer Date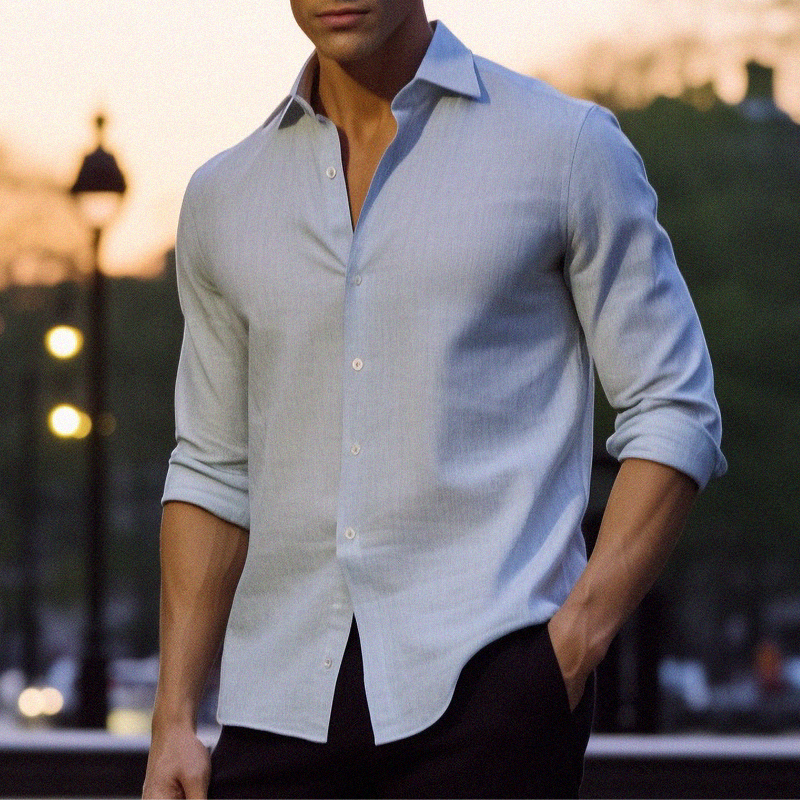 An outfit for a date in summer should prioritise comfort and simplicity. A simple white crew-neck T-shirt is a good place to start. Add a blue untucked shirt over your T-shirt, this can be worn or removed as the temperature dictates. On your bottom half wear loose fitting black trousers. A lightweight material such as a linen-cotton blend is best here. For footwear go for clean white trainers to appear casual, or black loafers to appear smarter. Both options can be worn with black socks.
Smart Casual Weekend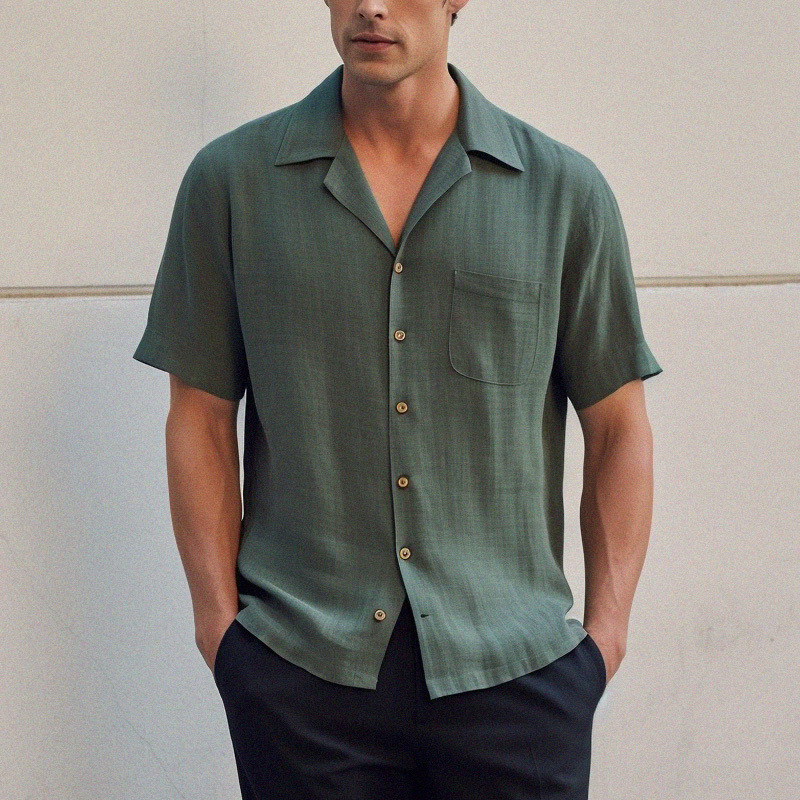 Although dressing for leisuretime in summer leans more casual, this needn't be the case. For a smart casual summer daytime look, try a linen shirt in a dark colour such as navy, black or forest green. Wear it with beige or black tailored linen trousers. Complete the look with some black leather sandals.
Summer Wedding Guest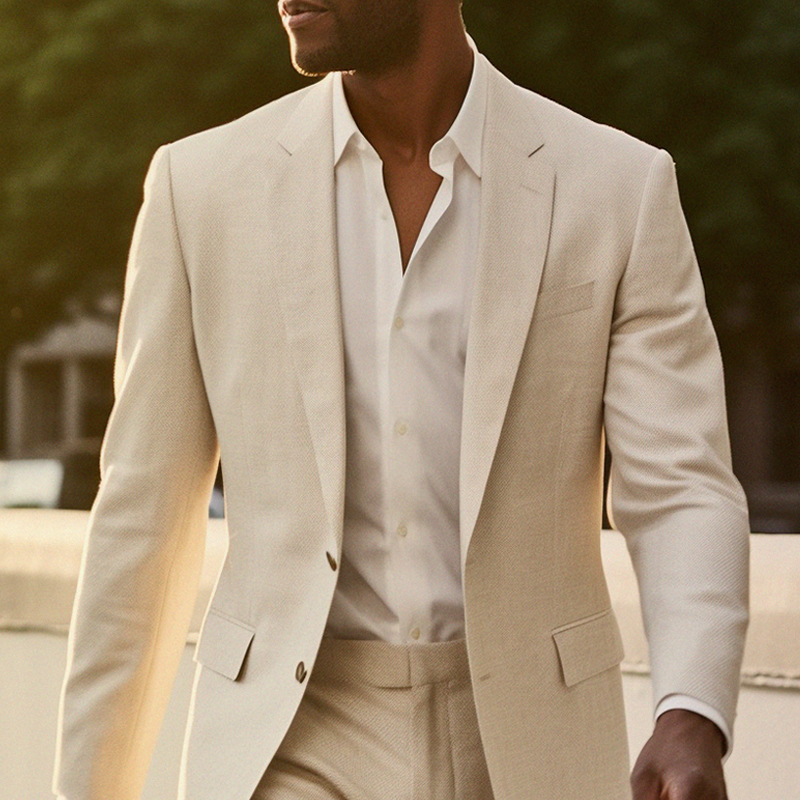 The outfit you wear to a summer wedding needs to be comfortable enough for a long day. It must also adhere to the dress code stated on the invitation. A navy suit is a failsafe option. Try a cotton and linen blend variety though instead of heavy wool. Wear a white linen shirt which will give the suit a more summery feel. Finish with brown suede loafers and navy socks. If a navy suit feels too dark, try a beige suit in a light linen or cotton fabric. Keep the white shirt and brown suede loafers, but wear oatmeal socks instead of navy ones.
Tips for Dressing for Summer
Choose Lightweight Fabrics
Opt for natural, breathable materials such as cotton and linen to stay cool.
Wear Lighter Colours
Lighter colours reflect heat better. Whites, beiges, and pastel colours will not absorb heat like darker colours.
Avoid Restrictive Footwear
Consider less restrictive shoes such as espadrilles, loafers, canvas sneakers or leather sandals.
Try Tailored Shorts
Tailored shorts are a better choice than sporty styles. This is because they will pair well with both shirts and t-shirts and will add an element of sharpness to your look. The hem of your shorts should hit just above your knee.
Keep the Cut of Your Clothes Loose
Keep comfortable and dry by wearing loose clothing that allows better air circulation.

Shirt Recommendations for Summer
Linen Shirts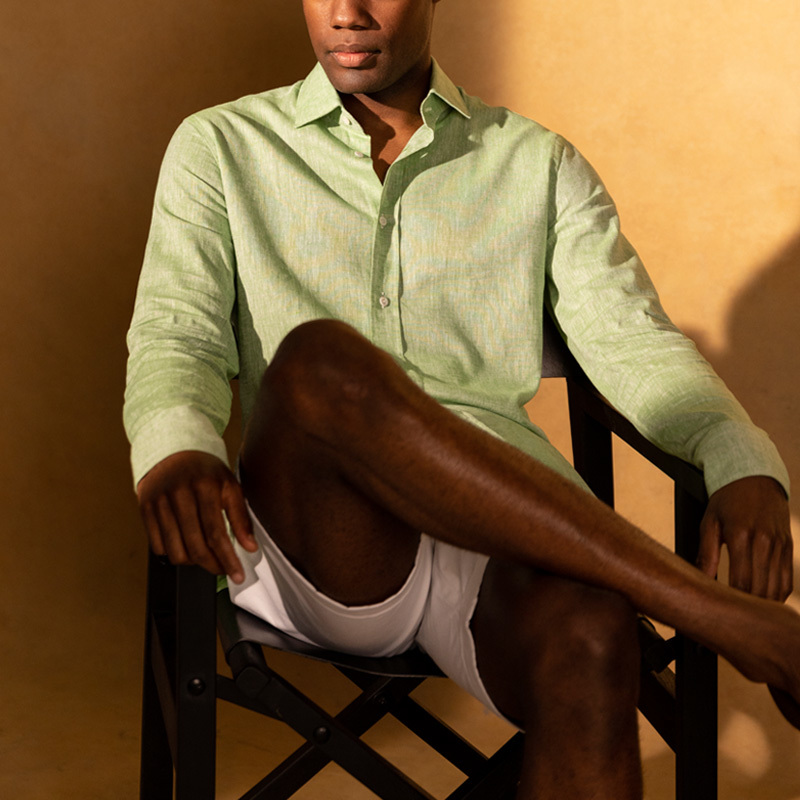 A linen shirt is light, breathable and quick drying. In a light colour such as white, it will help to reflect the heat, while the fabrics wicks away sweat from your body. Try a cotton-linen blend fabric for a less casual shirt that feels office-appropriate.
Camp Collar Shirts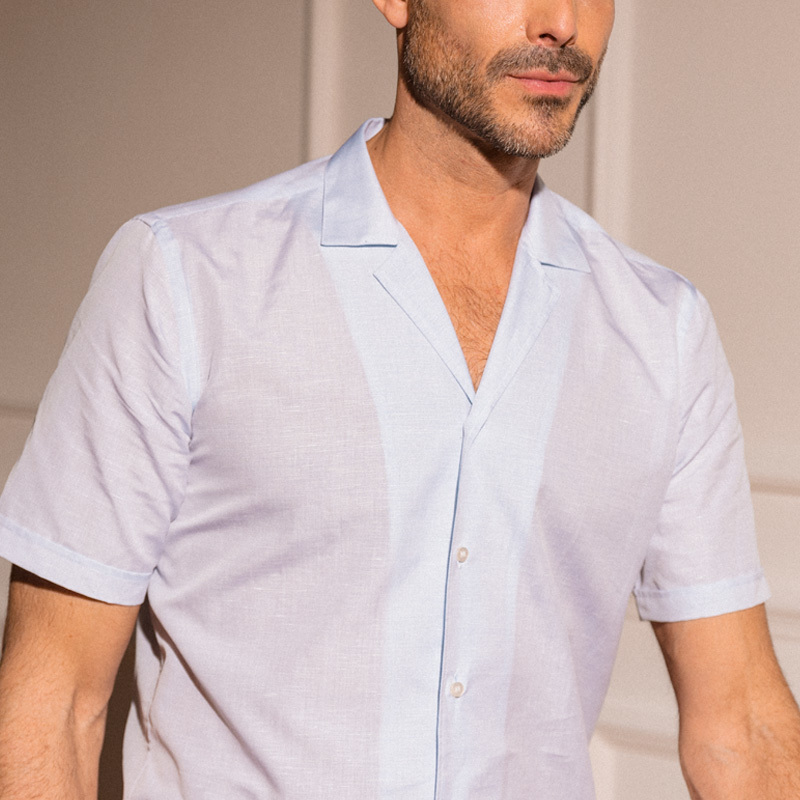 A camp-collar shirt features a distinctive open collar for a laid-back, retro feel. It's a stylish alternative to a standard short-sleeve shirt which can be worn alone or layered over a T-shirt.
Formal Shirts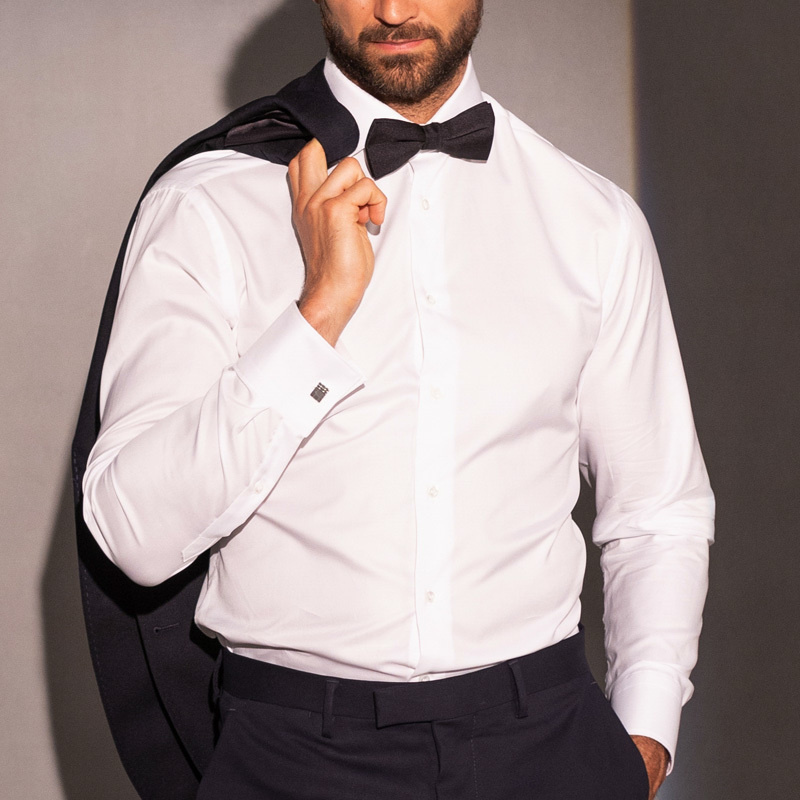 Formal shirts are still necessary during summer. This is a time of year when weddings often take place. An elegant white cotton poplin shirt with French cuffs is a classic option.
About us
We are Italian custom shirtmakers who combine traditional manufacturing with digital expertise. We enable our customers to create shirts for their measurements and taste online, then we make them in Italy.
Discover more