What is Business Casual?
Learn all about business casual dressing for men and discover our top tips to get this dress code right

What Is a Business Casual Dress Code?
Business casual is an office dress code that is less formal than a two piece suit, shirt and tie but is smarter than a weekend jeans, T-shirt and shirt combination. It requires a mix of smart and casual clothing items but should appear more business than casual. The concept of business casual can be traced to the 1980s Silicon Valley tech world, where young and talented employees began revolutionizing the workplace culture.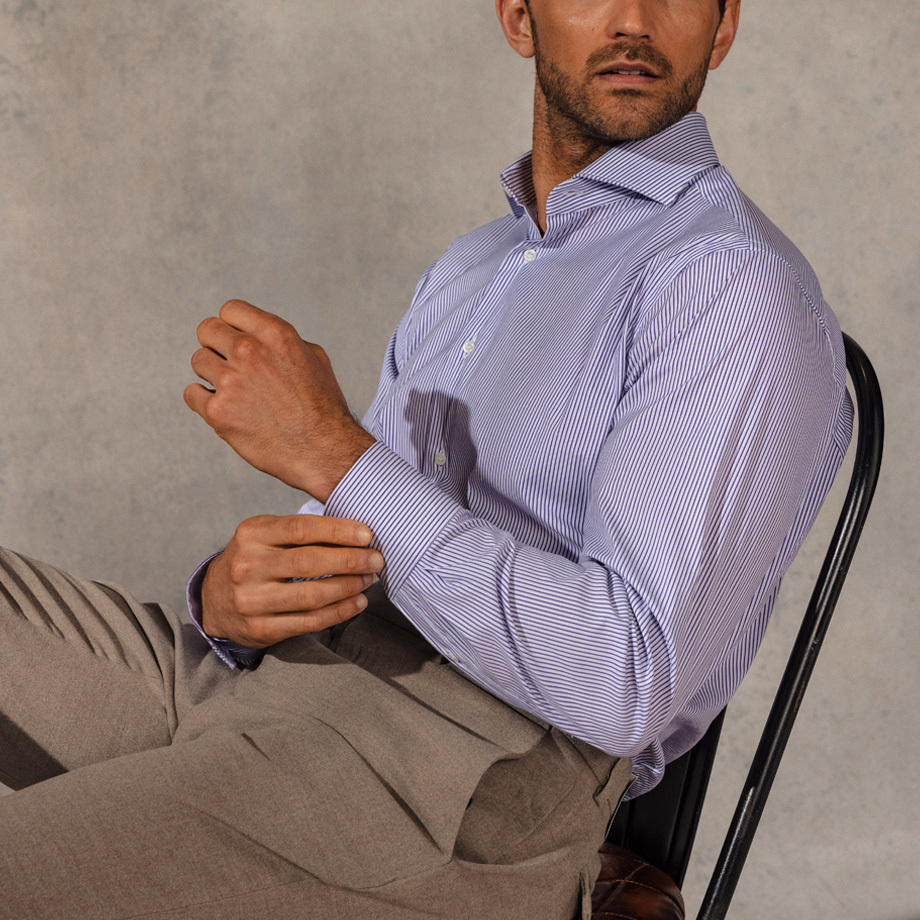 What Counts as Business Casual for Men?
Here is a full breakdown of the key business casual pieces that you need to build an outfit based on this dress code.
Business Casual Shirts
For a business casual look, your shirt's fabric can afford to have more texture than a smooth poplin shirt. Consider materials such as Oxford cloth, chambray and soft flannel. Subtle shirt patterns utilising two colours are appropriate for adding interest. Point, spread, band and button-down collars are all acceptable collar styles to try.
Business Casual Jackets/Blazers
A blazer isn't essential, but it is the most common type of jacket worn as part of a business casual outfit. A single-breasted wool or cotton blazer will offer the right level of formality. To make your look more casual, try a more textured blazer fabric such as tweed or corduroy.
Business Casual Trousers
Chinos are the default business casual trousers. They're comfortable and casual yet smarter than jeans. A classic straight-leg pair of chinos in black, charcoal grey, navy or tan will work for most offices. Never choose a pair with extra decorative pockets or with a worn-in wash. Your business casual chinos should be neat and simple. Pay attention to the length of your business casual trousers. Your socks shouldn't be visible and your trouser hem should stop at your ankle bone when standing.
Business Casual Sweaters
Knitwear is a large part of a business casual wardrobe. A sweater in a fine-gauge knit can be worn over a shirt while still allowing a jacket or blazer on top. Stick to neutral block colours such as black, navy, grey, green, brown and dark red. Quarter-zip sweaters are a fashionable alternative to crew or v-neck knitwear.
Business Casual Shoes
Business casual footwear can be as formal as a black Derby shoe or as casual as a brown suede desert boot. It's best to stick to dark brown or black and avoid slip-on styles such as loafers. Plain white or black leather sneakers might be acceptable in some workplaces. This depends on the particular company culture. If if doubt, avoid.
Business Casual Accessories
For a business casual look, don't overuse accessories. A necktie can be acceptable if paired with a suitable shirt, but there's no need for a pocket square. A brown or black leather belt can be worn when needed and should correspond to the colour of your shoes. Your socks should be a subtle neutral colour like grey, navy or black. Stay away from socks with vibrant patterns as they are too relaxed for a business casual look.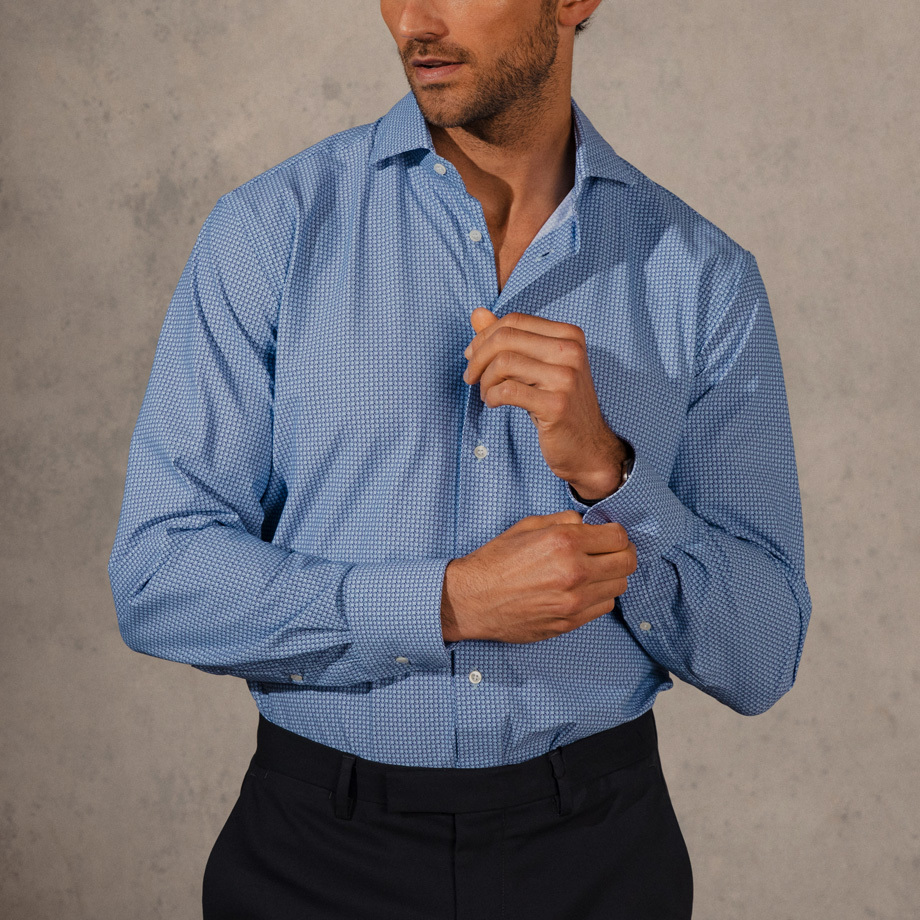 Examples of Business Casual Outfits for Men
Here are some examples of business casual outfit combinations which you can try.
Simple & Understated
For an understated look, try a combination of grey wool trousers, a white point collar shirt and a black knitted sweater. For footwear choose a pair of black leather Derby shoes. Layer with a beige car coat in cold weather.
Tailored Separates
Tailored separates offer the sharp lines of a suit with a casual twist. Wear a navy tailored jacket with a crisp white shirt and style it with some tan smart trousers for contrast. Finish with a pair of brown suede brogues.
Winter Layers
Use textured fabrics to stay warm in the winter months. Combine a navy flannel shirt, a brown corduroy blazer, a pair of charcoal wool trousers. Add a knitted sweater in charcoal grey and a classic wool overcoat in black. Finish with black smooth leather lace-up boots.
Summer Shades
Wear lighter colours as part of your business casual look when weather is warm. Instead of dark trousers, opt for a pair of cream chinos and style them with a blue chambray shirt. A pair of brown suede desert boots can be worn on your feet, and a grey blazer can be added when needed.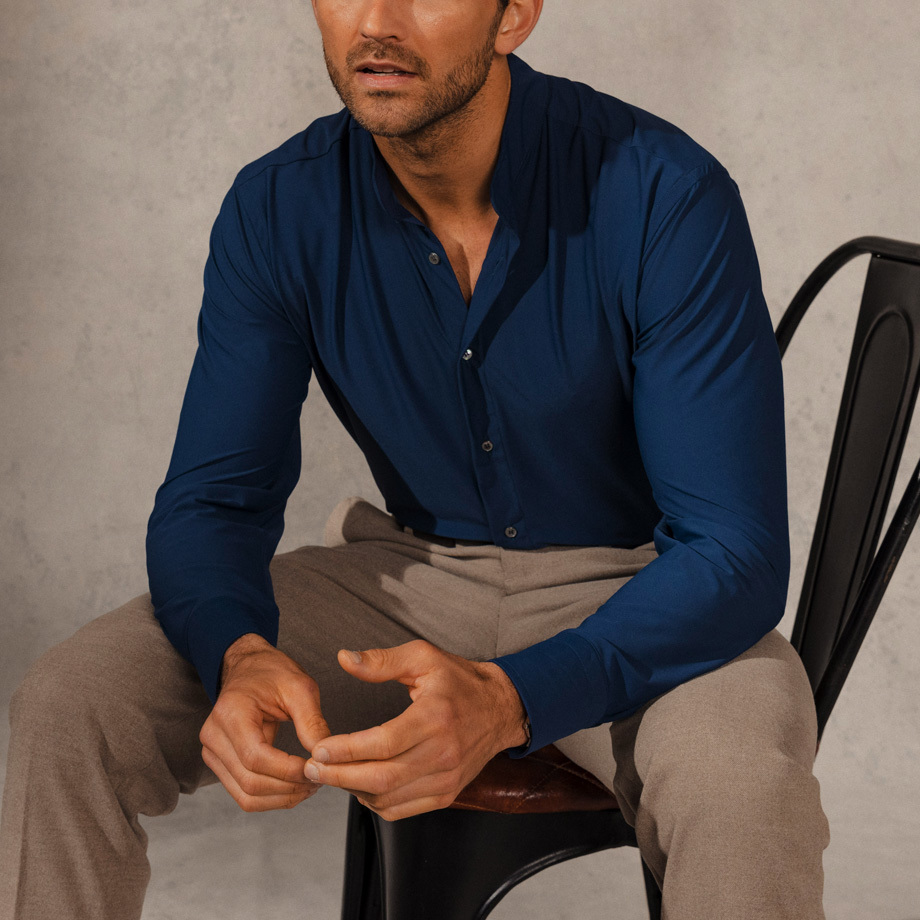 What Men Should Not Wear for Business Casual
Casualwear
Outfits which feature sports sneakers and T-shirts together are not business casual friendly. When casual garments are worn, it's important that they're balanced with smarter items. For example, an Oxford shirt is casual, but it can be dressed up with suit trousers and a tailored jacket.
Business Formal
Formal business attire can feel uptight and stuffy in business casual workplaces. Avoid wearing a full suit and accessories such as neckties, pocket squares and cufflinks together. The goal for business casual is to look professional yet relaxed. Choosing a blazer and trousers in different colours is an easy way to tone down the formality of an outfit.

FAQ
Can Men Wear Jeans For Business Casual?
Jeans are not considered to be business casual appropriate. Instead, it's best to stick to legwear such as chinos if you want to achieve a casual yet professional look.
Do I Need A Jacket For Business Casual?
It's not always necessary to wear a tailored jacket for a business casual look. On your top half a shirt or a knitted sweater can suffice provided your bottom half remains smart.
Are Polos Business Casual?
A plain long sleeve polo shirt without a logo can be appropriate with caveats. It should be worn with smart suit trousers and a blazer.
Can I Wear Sneakers For Business Casual?
The answer to this question depends on the workplace. To get an idea of whether this is acceptable, see if many of your colleagues are wearing sneakers. If they are then it's safe to assume that you can wear sneakers too. Always opt for plain white or black styles without patterns or logos. Make sure the rest of your outfit is smart to compensate for the casual nature of your sneakers.
About us
We are Italian custom shirtmakers who combine traditional manufacturing with digital expertise. We enable our customers to create shirts for their measurements and taste online, then we make them in Italy.
Discover more
---