What To Wear On A Date For Men
Discover how to choose the right clothing whether you have a first date, smart date, a casual date or daytime date.

Clothing says a lot about a person. What you choose to wear tells the world who you are before you've uttered a single word. It's one of the first things people notice, and aside from your personality, it's the most powerful tool you have when it comes to making a good impression on a date.
Picking the right outfit for a date gives you a huge amount of influence over the way you're viewed. If you look good, you feel good and that feeling manifests itself as positivity and confidence. In other words, excellent first-date clothing choices won't just stand you in good stead from a visual perspective, they can bolster your personality and change your mindset too.

The Do's And Don'ts Of Dressing For A Date
Do Dress With Simplicity
Peacocks are well known for using eye-catching colours and intricate patterns in their plumage to attract a mate. But a peacock you are not. Outside of the animal kingdom, such displays can come off as over the top, which is why it's always better to keep things pared back and simple.
When it comes to dates, it's impossible to go wrong with a neutral colour palette. Monochrome looks using black, white and various shades of grey are foolproof. Or just stick with black and white for something that's high-contrast yet suitably restrained.
A plain white button-down Oxford shirt tucked into smart black trousers and worn with black shoes and black socks is a tried-and-tested formula which can be dressed up or down, depending on your outerwear. Add a leather jacket to steer casual or choose a beige car coat for a more sophisticated look.
Don't Neglect Small Details
Getting the core elements of your outfit nailed is obviously important, but it's the finer details that make an outfit's constituent parts work together harmoniously. Even something as seemingly innocuous as dirty shoes can diminish your overall look, so make sure to pay close attention to the condition of everything that you're wearing.
Don't get sloppy with things such as mismatched socks or a gaudy watch. These might seem like relatively minor things, but they have the power to bring an otherwise exemplary outfit crashing down.
Do Dress To Match The Time And Location
If you've arranged to meet in the park for a picnic on a sweltering summer's day, you can probably leave the tailoring at home. Conversely, if you're set to rendezvous at a Michelin Star restaurant for a late-night tasting menu, shorts and trainers definitely won't work.
Matching your outfit to the setting is very important, so think about the time of day, the temperature, the formalness of the venue and the general mood to help guide your wardrobe choices.
If you're heading to a restaurant or bar and find yourself unsure of the dress code, do some research and take a look at the venue's website or social media accounts for inspiration.
Don't Forget The Fit
The importance of your clothes' fit cannot be overstated. You can have clothes crafted from the world's most luxurious materials, but if they're hanging off your frame like a shapeless potato sack they're never going to look good. This is why it pays to consider the cut of your clothes above all else.
Investing in a made-to-measure shirt is a great way to get a tailor-made look without having to splash out on a full bespoke suit. You can also have garments altered by your local tailor. Blazers, trousers and outerwear can be adjusted to fit your body by a specialist who knows what they're doing and will ensure that you look your very best.
---
How To Dress For Different Types of Date
What To Wear On A Casual Date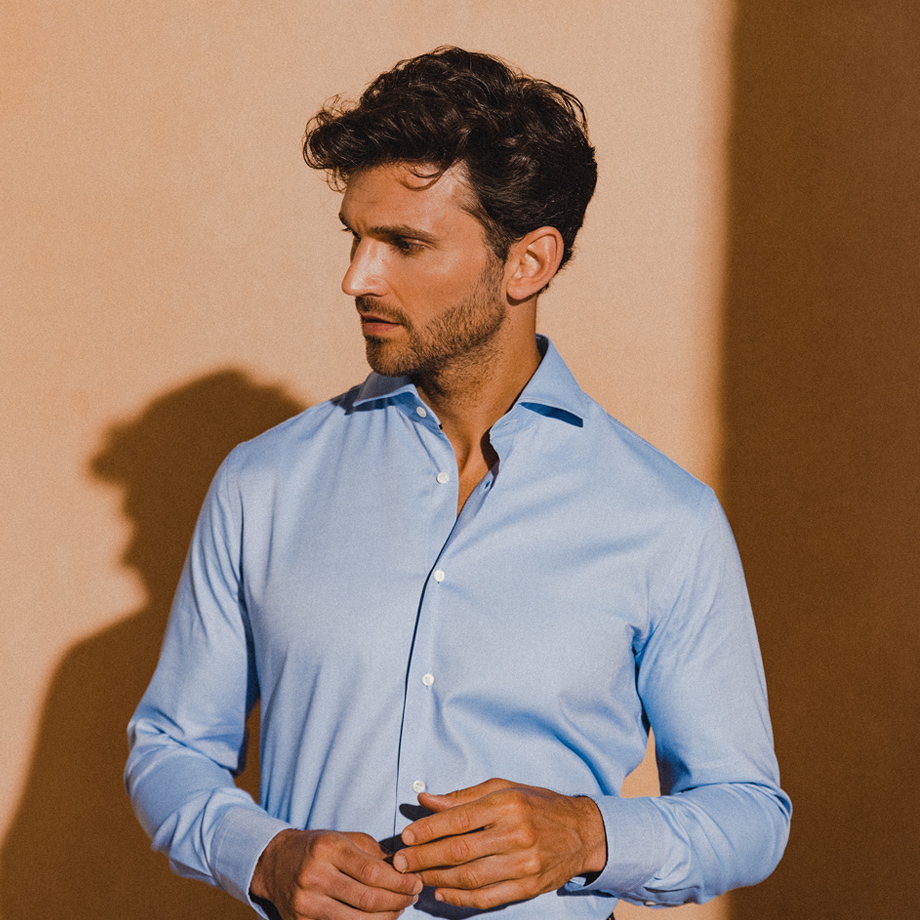 The vast majority of dates will fall into the casual dressing category. That's good news as these types of dates are probably the easiest to dress for. The key is to strike that perfect balance between smart and casual; you still want to look like you've made an effort, but you don't want to be overdressed either.
An Oxford shirt is one of the most versatile smart-casual garments that you can try here. It's simple, timeless and will work well as a foundation upon which to build all manner of casual date looks.
For casual dates, you can leave your (well-ironed) Oxford shirt untucked. Opt for pale blue design and wear with some straight-leg dark navy chinos, charcoal grey socks and a pair of dark brown Derby shoes. Chelsea boots, desert boots or loafers in dark brown would also work well here. If you're insistent on wearing trainers, try a pair of white low-top lace-ups which are pristine.
---
What To Wear On A Smart Date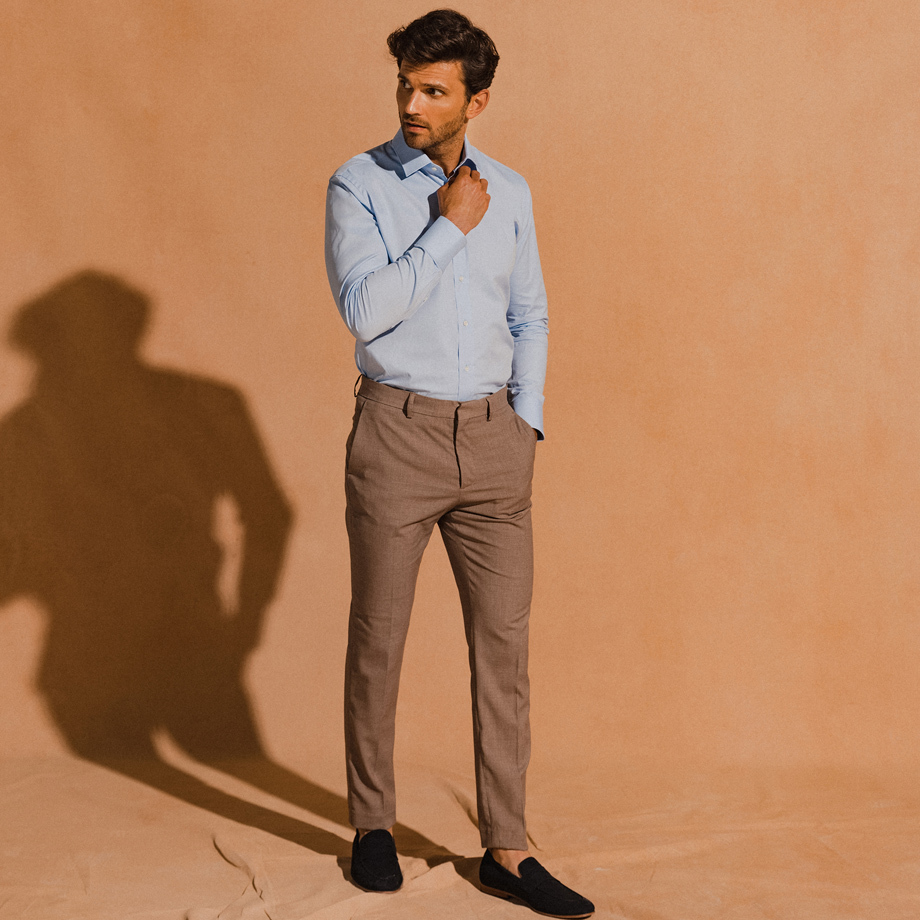 Smart settings such as upmarket restaurants, theatres and expensive bars can be tricky to dress for. You don't want to underdress, but you also don't want to look like you've arrived straight from a corporate office. This is why it's usually a good idea to steer clear of a full suit in favour of a smart blazer and trousers which are not part of the same suit.
When working with separates, it's a good idea to aim for some contrast between your upper and lower halves. This can be achieved through colour, texture of fabric, or a combination of the two.
A custom-made white shirt is a solid starting point. Pair this with a dark blazer, perhaps navy or deep green, then finish the look with sand or beige coloured trousers. For something even more relaxed you could opt for a band-collar shirt instead of a traditional straight-point collar.
For your footwear, choose Oxford shoes for smart outfits, loafers for relaxed outfits and Derby shoes if you're aiming for a smart casual look. If the weather is cold, choose a wool overcoat and add some fine-gauge knitwear (not chunky) over your shirt.
---
What To Wear On A Daytime Date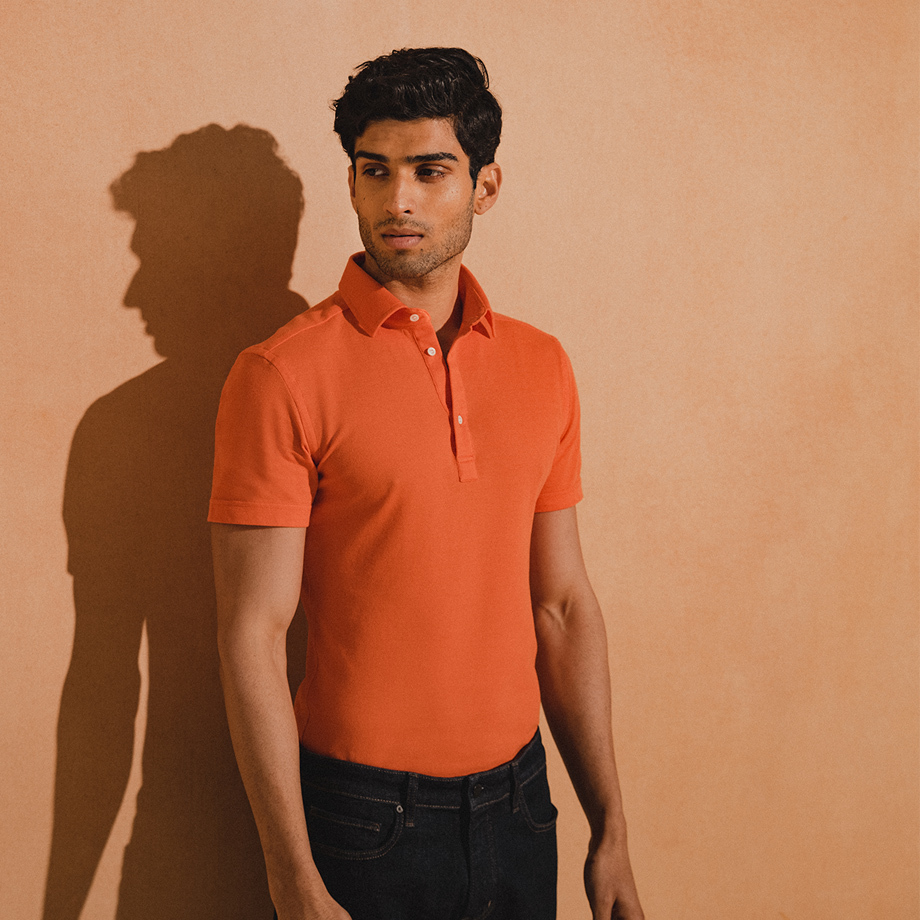 Perhaps you're meeting during the day for brunch or some afternoon drinks. In this case, you can afford to be even more casual with your wardrobe choices. Forgo tailoring and fitted shirts in favour of more relaxed pieces.
One garment that is particularly useful for a daytime date is a polo shirt, which can be either short or long sleeve depending on the time of year and ideally free of patterns or logos. This is a casual, comfortable piece of clothing but the collar makes it slightly smarter than a simple T-shirt. A dark navy or deep green design can be worn with straight-leg black jeans, charcoal grey socks and brown penny loafers for a dressed-down look that still looks neat and presentable.
About us
We are Italian custom shirtmakers who combine traditional manufacturing with digital expertise. We enable our customers to create shirts for their measurements and taste online, then we make them in Italy.
Discover more