How To Wear A Linen Shirt
The linen shirt is a classic summer style for men, discover how we suggest wearing one as part of a stylish outfit.

When summer hits and the mercury begins to creep skywards, many of the usual go-to shirting fabrics struggle to handle the heat. Cotton weaves like Oxford cloth and poplin are ideal for most of the year, but in the very hottest of weather they can leave their wearer uncomfortable and sweating. Thankfully there's a simple solution to this seasonal dilemma. Its name: the linen shirt.
Linen is a lightweight, breezy fabric which is made from the fibres of the flax plant and is one of the oldest woven materials in the world. There's evidence of it being used as long as 30,000 years ago and its continued relevance is testament to its unrivalled benefits.
But a linen shirt can be so much more than a solution to sweat patches. When worn well, it can carry a man through a range of social settings and situations, keeping him cool, comfortable and stylish throughout.
Below you'll find some key tips on how to wear a linen shirt, plus some handy information about one of menswear's most underrated materials.
---
The Benefits Of Linen Shirts
Linen has a lot going for it as a fabric. First of all, it's extremely durable. Far more so than cotton. In fact, the natural fibers from which it is made are known to be the world's strongest and are famously long-lasting. That's how we know linen has been in production for roughly 30,000 years; because pieces of ancient linen fabric have been discovered intact. For you, this is good news as it means you'll get a lot of wear out of a linen shirt without degradation.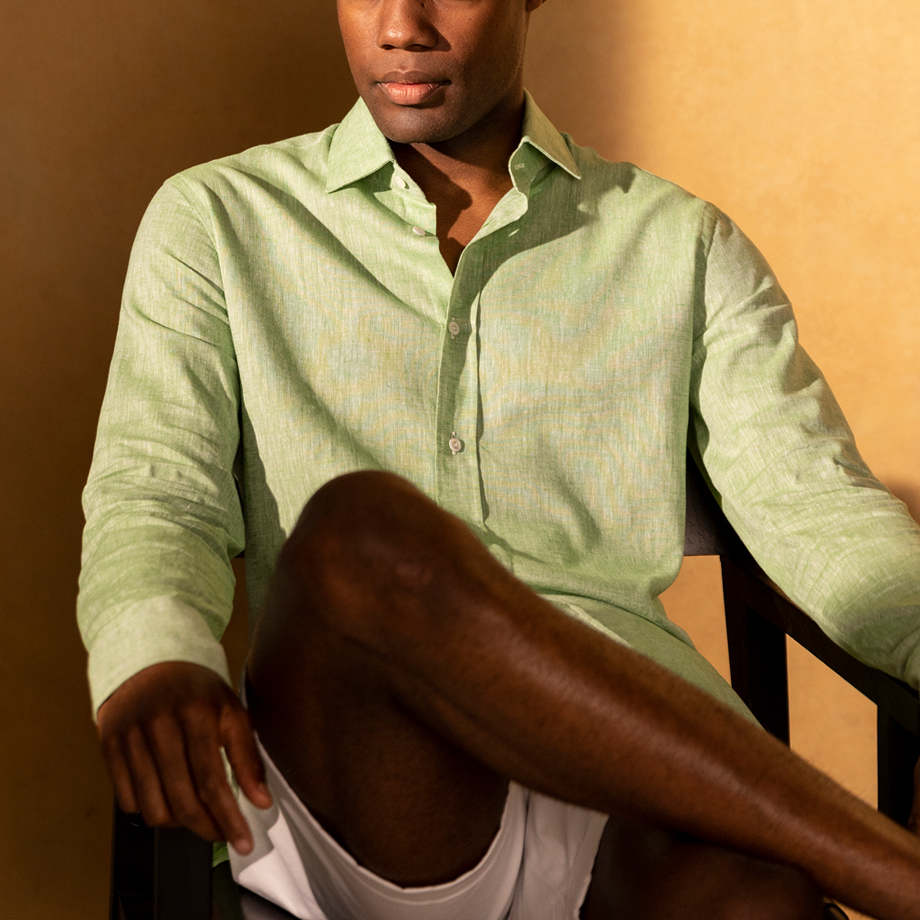 Then there's the suitability for summer weather. Linen packs a triple threat when it comes to dealing with the heat. Firstly, it's lightweight, which makes it easy for air to circulate and keep the wearer cool. Secondly, it's breathable, which means sweat vapour is able to escape through the fabric easily. And last of all, it's quick-drying and great at wicking moisture away from the skin, so if wet patches do occur, they won't be a problem for long.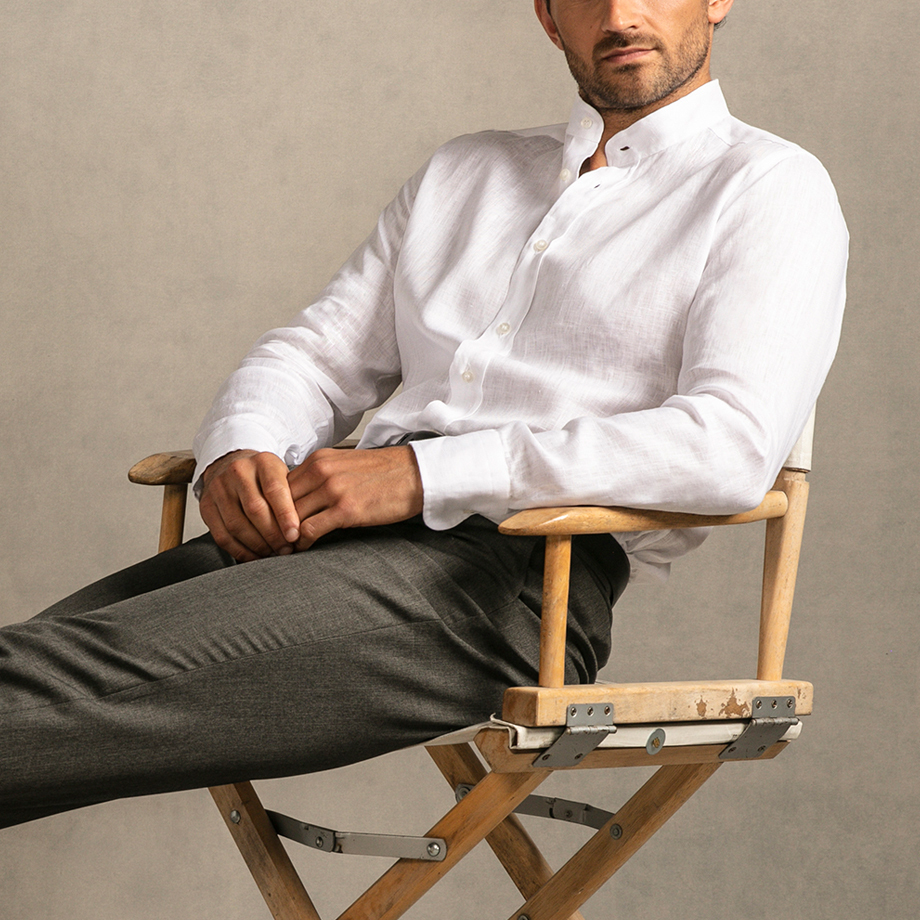 ---
How To Wear Linen Shirts
At The Office
A linen shirt is the perfect alternative to a classic poplin work shirt when it comes to summers in the office. In white or pale blue, it can do a reasonable impression of its heavier, business-ready counterpart, but won't leave you overheating in the meeting room.
For smart business attire, wear a white slim-cut linen shirt with tailored trousers in navy or grey and bring the look together with a matching suit jacket, finishing the look with black or brown Derby shoes. Or, for business-casual settings, opt for a linen shirt in a pastel shade such as blue or pink and team it up with soft tailoring in light, neutral tones and suede footwear.
If your office dress code is more relaxed, consider swapping the dress trousers for chinos and ditching the jacket altogether. Footwear-wise, a casual suede or leather shoe will do the trick.
For Casual Days
A linen shirt worn with full-length legwear is a great option for summer evenings when the day's heat is waning. Jeans, chinos and tailored trousers can all work well with a linen shirt, but which to opt for will depend largely on the occasion in question.
When you need to go casual, style a light-coloured linen shirt with navy blue denim straight leg jeans and finish off with sand coloured suede desert boots. Keep the shirt untucked for this one and your shirt's fit should be on the more relaxed end of the spectrum. Roll your sleeve cuffs to your elbows and unbutton up to two buttons at the neck for an added dose of nonchalance.
For something slightly smarter, ditch the jeans in favour of chinos or tailored trousers and keep the colour palette dark. Generally speaking, the darker the colours, the dressier a look will feel and a slimmer cut can help to add a more contemporary twist. For the footwear, think dark, leather but with a little bit of character. Penny loafers or deck shoes would be wise options in this instance.
With Short Sleeves
The linen shirt is a garment built for summer, so it makes sense to keep it as cooling as possible by choosing short sleeves in place of long if you'll be in sweltering heat. Granted, a short sleeve shirt is not the best option for formal settings, but for relaxing at the weekend or soaking up the sun on holiday, it's the best type of shirt for the job.
With its short sleeves and airy fabric, this type of shirt is naturally a good companion for a pair of shorts. Choose tailored or chino shorts and wear your short sleeve linen shirt untucked. For the shoes, go for a pair of canvas trainers or sandals if you're thinking casual, or choose suede driving shoes to smarten up the look.
For A Formal Events
The words 'linen' and 'formal' are rarely found in the same sentence, but the fabric is a saviour for smart events on extremely hot days. Making it work is all about the colour and the collar. A hot-pink linen shirt with a band collar, for example, is unlikely to go down well at a formal event. Whereas a plain white linen shirt with a classic straight-point collar will be able to blend in seamlessly without raising any eyebrows.
That's not to say other colours should be avoided entirely. For an event like a summer wedding, a pastel blue or earth-tone linen shirt is perfectly acceptable and will pair beautifully with a linen suit in a light neutral tone.
---
How To Care For A Linen Shirt
Contrary to popular belief, linen is not an enigma when it comes to laundering. It doesn't need to be dry cleaned, it doesn't require special detergents and apart from a tendency to come out of the machine a bit crumpled, there really aren't any major differences when compared to cotton care.
One thing to bear in mind is that linen does have a tendency to shrink a bit. For this reason, it's best to check labels religiously before washing and stick to low temperatures. This goes for ironing too, which is something linen needs a lot of. Do it when the garment is still a bit damp and the wrinkles tend to drop out far more readily.
Unfortunately, no amount of ironing can stop a linen shirt from collecting creases over the course of the day, but there are steps which can be taken to minimise this. A spray-on starch is the best option. Used lightly, this will prevent high-wear areas like the back and the inner elbows from becoming overly creased.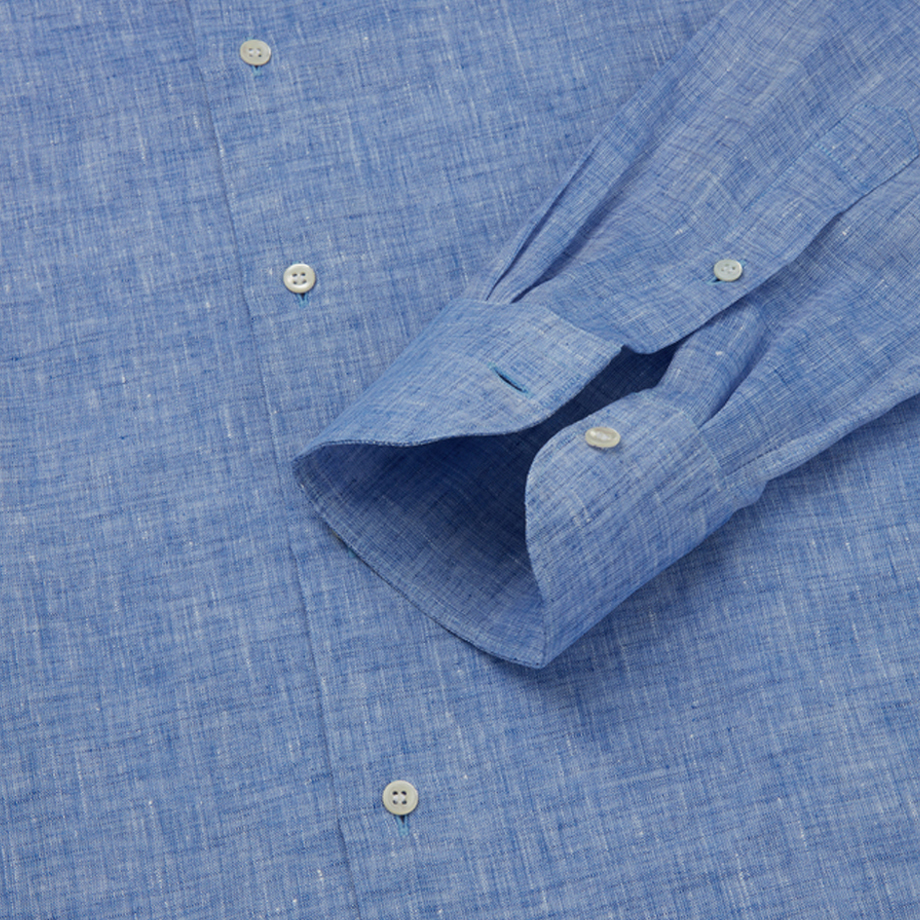 About us
We are Italian custom shirtmakers who combine traditional manufacturing with digital expertise. We enable our customers to create shirts for their measurements and taste online, then we make them in Italy.
Discover more