Which Shirt Collar Is Right For You?
Discover everything you need to know about the most popular shirt collar styles and learn how each style should be worn.

Shirts have been a regular part of men's wardrobes for centuries. When something has been in existence for so long, it's bound to evolve and adapt to different environments. That's exactly what has happened with shirt collars over the years.
Today, there are as many types of shirt collar as there are types of shirt. From the laid-back and breezy to the sharp and formal, they've developed to cover a range of dress codes and suit a variety of different occasions and needs. Which one you choose for your shirt will depend on a number of factors, including where you intend to wear the shirt, what you intend to wear it with, and even the shape of your face. Sound confusing? It needn't be.
Below are five of the most common collar styles, covering everything from smart-casual to black tie. Here's what you need to know about each one before you decide which is right for your next custom-made shirt.
---
Straight Point Collar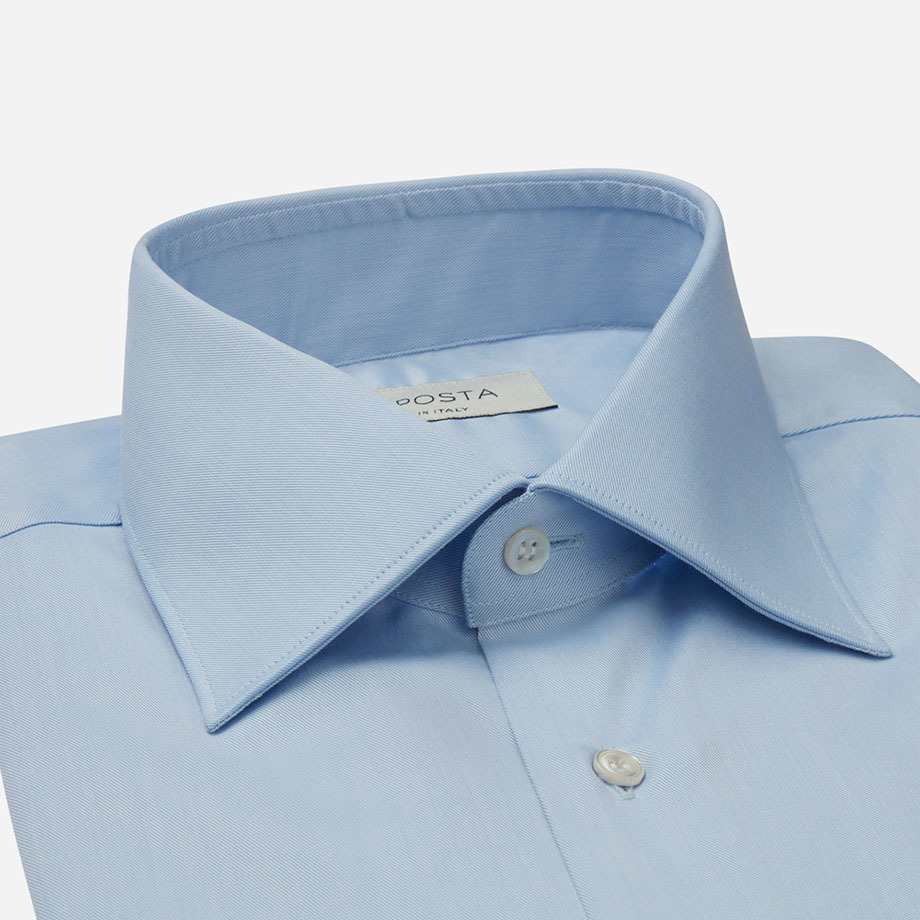 If versatility is a priority, a straight point collar would be a good option. This classic collar style is defined by the relatively small gap between the two points at the front, and is available in a number of different lengths and shapes. It can be worn with or without a tie, and for this reason, is suitable for a broad spectrum of situations, ranging from weddings and special occasions, to general day-to-day duties.
If you do choose to wear a straight point collar with a tie, choose your knot carefully. The small gap between the points lends itself well to low-profile knots, like a four-in-hand, but make sure to select a relatively slim tie, as anything too wide will throw things off balance.
Though the straight point collar is incredibly versatile, it is especially suitable for those with a round face as the vertical profile of this collar will help to elongate the face.
---
Spread Collar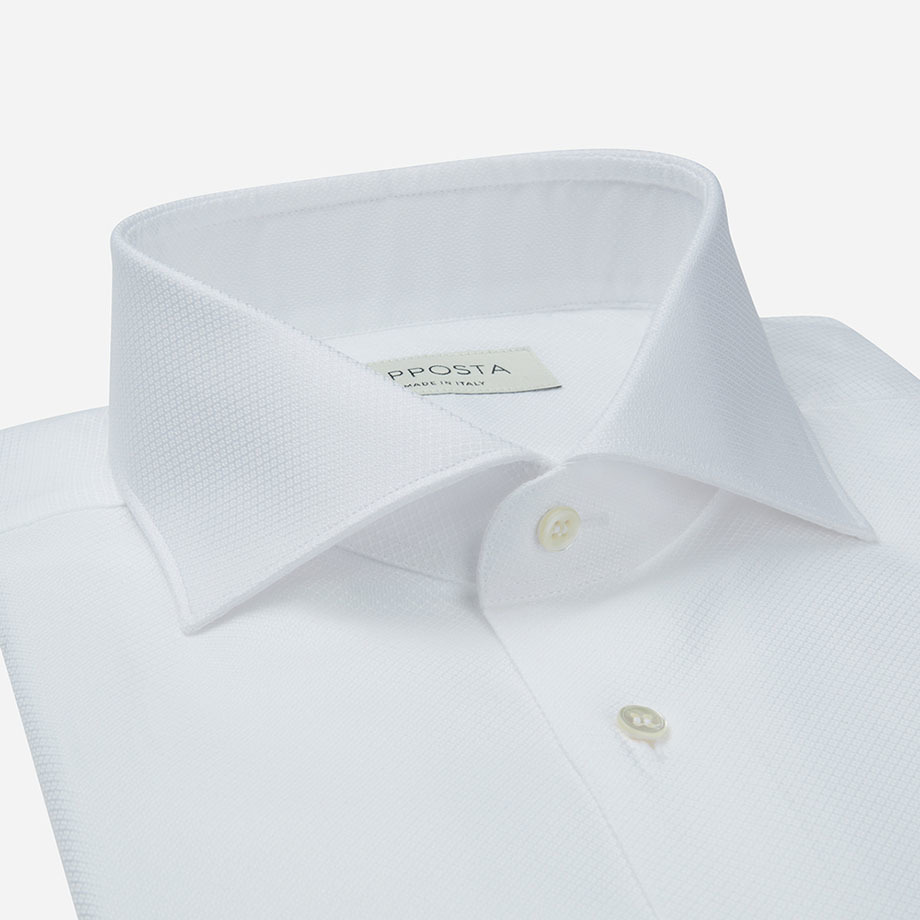 The straight point collar has long been the standard in North America, whereas the spread collar is more common in Europe. This type of collar shares much of its design with its trans-Atlantic cousin, but, as the name suggests, the points of the collar are spread apart further. The spread collar has increased in popularity in recent years.
It was first designed to allow wider tie knots to be worn, such as a Windsor knot, but styles do vary and some are still narrow enough to wear with a four-in-hand knot without exposing the strings. In addition to wider knots, the spread collar is equally accommodating to thicker ties made from textured fabrics such as knitted wool, flannel and cashmere.
As for where it can be worn, the rules are much the same as a straight point collar. That is to say that this style is supremely versatile and can be worn in a wide range of settings, depending on what it's worn with. It's quite happy rubbing shoulders with tailoring, but still laid-back enough to hang with chinos and trainers on the weekend.
This style of collar is best worn by those with longer or rectangular faces and best avoided by those with fuller, rounder faces.
---
Band Collar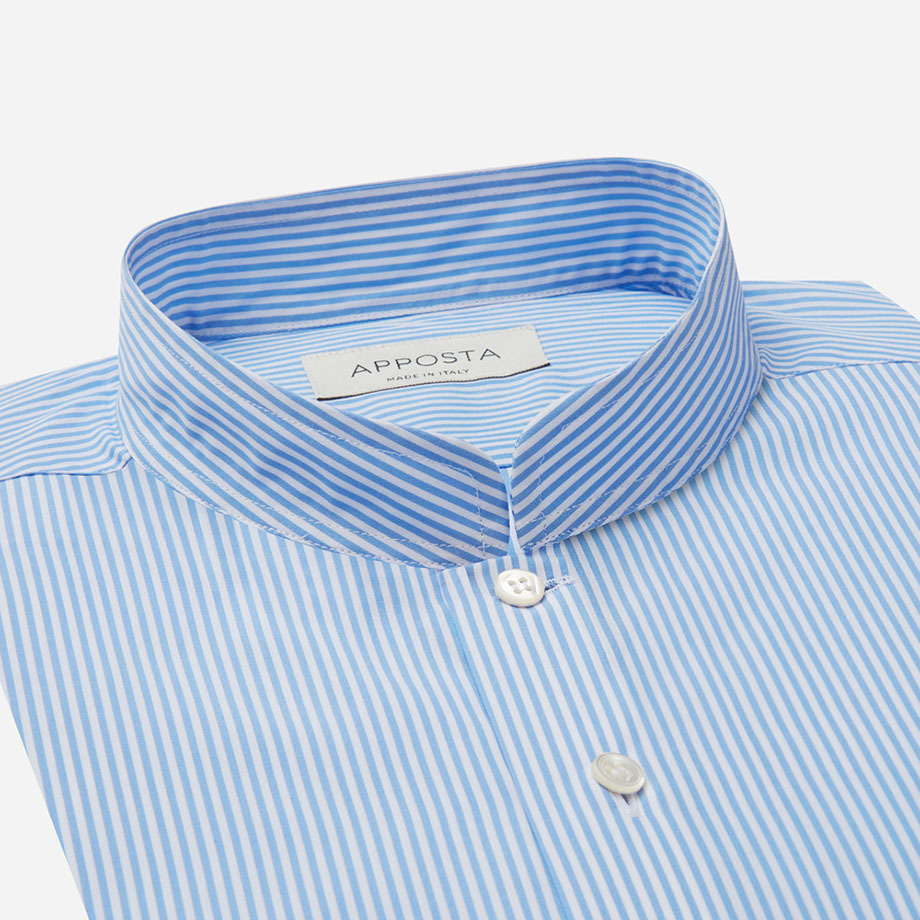 There are those who would argue that the band collar isn't really a collar at all. After all, it lacks the distinctive fold that all other traditional collars possess. It therefore possesses a more contemporary, casual feel in comparison to fold collars, lending otherwise straightforward outfits a touch of character.
It was only during the 1920s and 1930s that the style caught on in Western menswear when the working class of England adopted the style owing to its practicality and the fact that ties were rarely required. Today, the band collar has found its way into mainstream menswear; loved for its relaxed appeal, yet still smart enough to team with tailoring.
A band collar can work for any situation short of a black-tie event. Wear it with casual pieces such as jeans at the weekend, shorts and sandals in the summer or on holiday, and in place of a more traditional collar to add a twist to your tailored looks.
This style works well for those with an oval or long face shape as it will not lengthen the face further. Those with a rounder face may want to avoid it as the band collar will not provide balance.
---
Button-Down Collar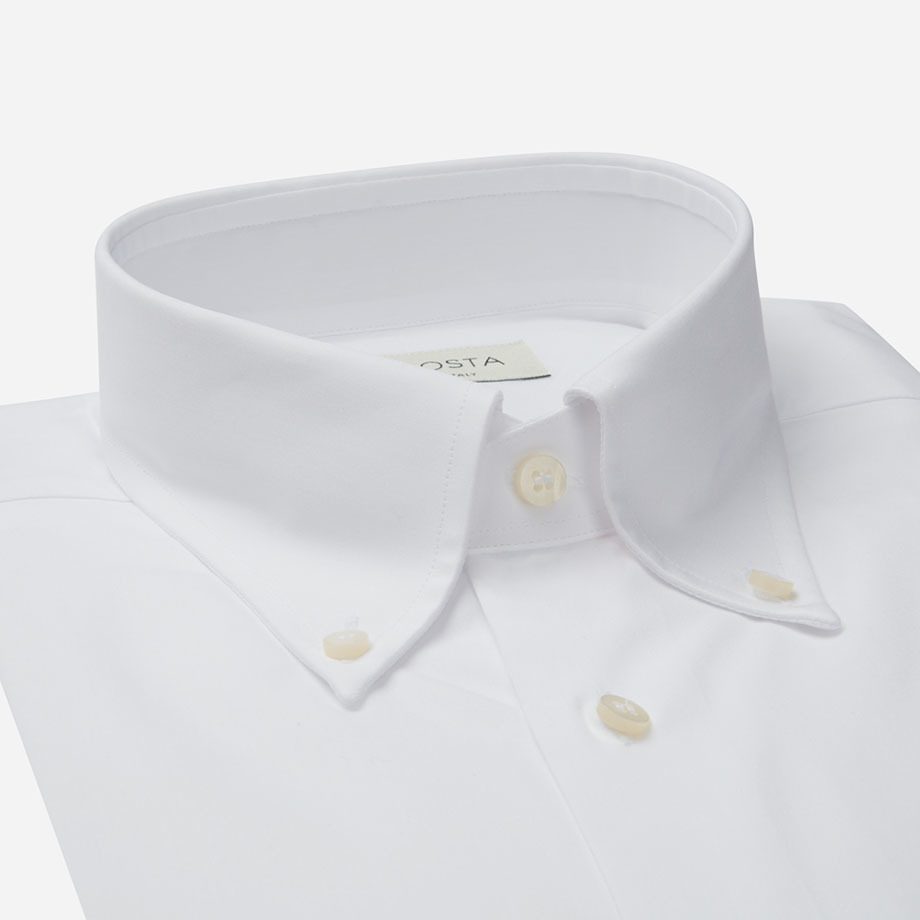 A smart-casual staple, the button-down collar has its roots in sports. The style was originally designed for polo players in England, as the buttons stopped the collar points from flapping up into the rider's face during play. But it was only when an American named John E. Brooks spotted it on a visit to Britain that its potential as a fashion item was realised. He took it home to his grandfather's company, Brooks Brothers, who introduced the button-down collar to the menswear world. The collar itself is very similar in design to the straight point collar, the key difference being the addition of buttons which hold the collar in place.
The button-down collar is best suited to smart-casual situations. Think evening meals, dates, the bar, weekend frivolities, and everything in between. The button-down collar works particularly nicely on an Oxford shirt, teamed up with a pair of tailored trousers and a smart casual shoe, such as a loafer or a suede boot.
In terms of who it suits, think of it like its buttonless counterpart. That is to say, if you're particularly long in the face then it should be handled with care.
---
Wing Collar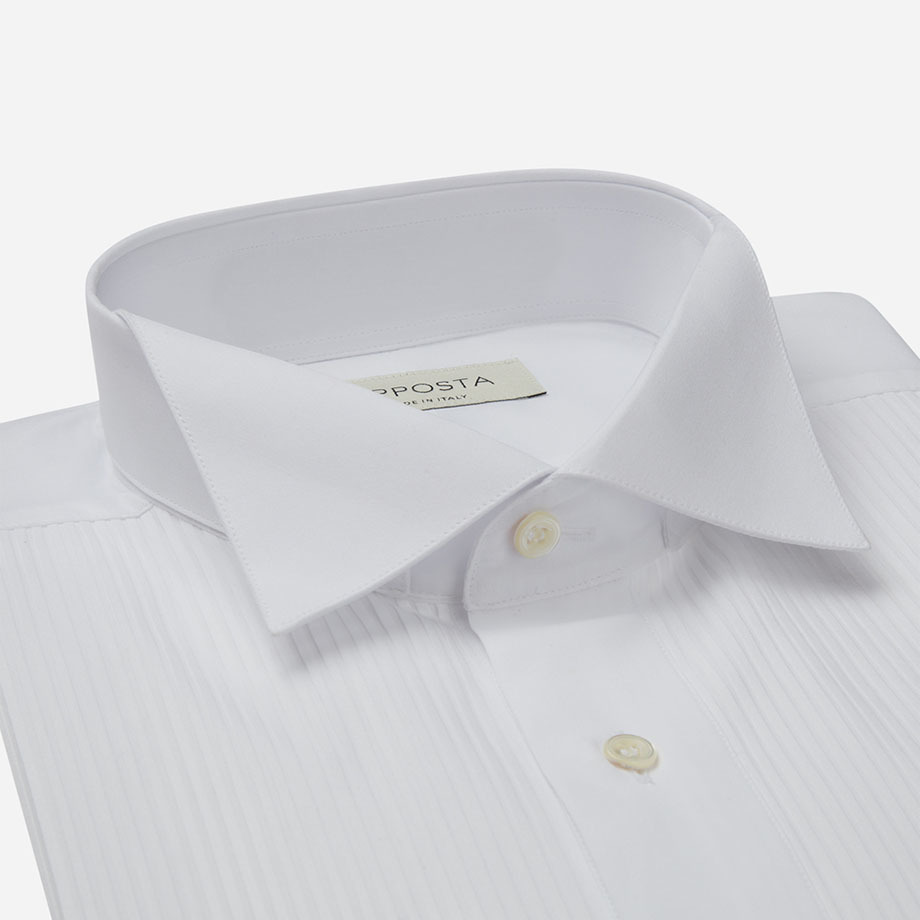 Most collar styles possess some degree of versatility, but the wing collar is the outlier in that regard. This is, unequivocally, a formal collar. It should be worn exclusively for black-tie functions and ceremonious occasions. Certainly not the sort of thing to be paired with a two-piece lounge suit.
Design-wise, the wing collar consists of a stiff band with two outward-facing points to the front. This is to enable it to be worn with a bow tie. In fact, some wing-collar shirts will come with special loops designed specifically to secure one.
The options of what to wear a wing collar with are pretty limited. A tuxedo is really the only way to go. That's why a wing collar is the only option when it comes to choosing a shirt for your next formal function.
---
Special Collars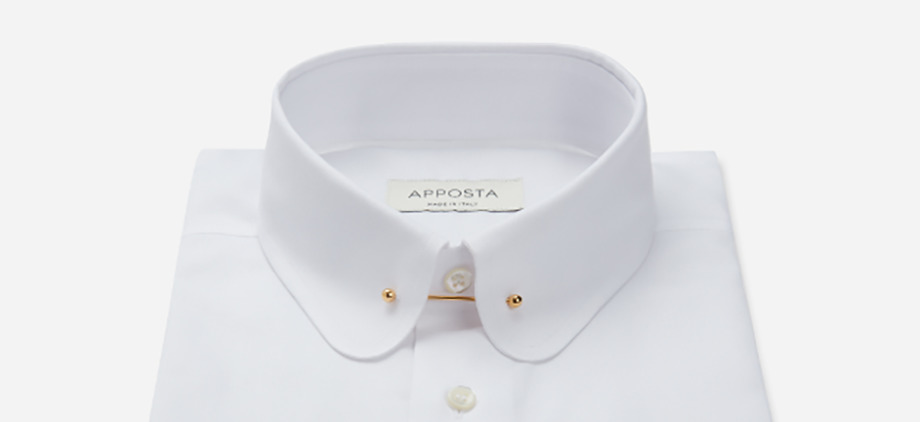 Special collars each offer different design attributes or functions depending on the style. For example, pin collars feature a metallic bar which is designed to keep ties in place. Tab collars similarly feature a mechanism to keep ties in place while pushing the tie knot away from the body. Other special collar styles are decorative. Take the club collar with its rounded edges for instance, this twenties-inspired style makes the ideal companion for a four in hand tie knot and will lend your outfits a vintage feel.
About us
We are Italian custom shirtmakers who combine traditional manufacturing with digital expertise. We enable our customers to create shirts for their measurements and taste online, then we make them in Italy.
Discover more